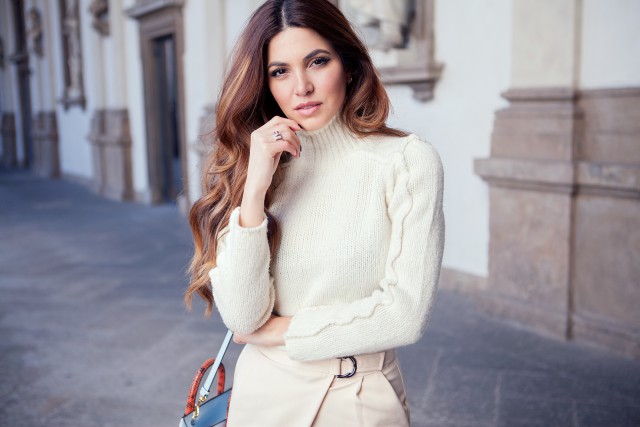 Today is the last day of Milan Fashion Week and this has definitely been my favorite fashion weeks of all time. The days just seemed to go by so quickly, it's kind of unbelievable that we have to pack up and say goodbye. I got to visit a lot of nice shows that I've always wanted to attend, like Ferragamo and Versace, and it all felt like a really beautiful dream come true. I also got to return to some very fun shows, like Moschino, which is always a great surprise because I never know what to expect. I was particularly excited for that show this season because last time the theme was Barbie and there was just so much colorful energy that I couldn't help but feel happy when I left. This time it focused on a toy theme with teddy bears and Looney Tunes. I felt like a kid energized by cartoons, gold patchwork, and graffiti. Too fun!! So entertaining and nostalgic.
With each day packed with at least three shows and three events (sometimes more!), it's no wonder time seemed to run by me a little too fast. Plus, we did some shoots for the blog and had a handful of meetings. Good thing I love my job! I changed clothes several times a day there, sometimes in the car on the way to another event because there was just not enough time to go back to the hotel. I've never experienced that before! It was hard at first, but then I got the hang of it and the rush of adrenaline would kick in, getting me excited for a new adventure. Another thing I just love about Milan Fashion Week is how everyone here is so amazingly welcoming and friendly. I never felt out of place and it was really nice to be able to meet fellow bloggers, mingle with writers and photographers I admire, and I even got to chat with some designers! But what I especially love is meeting you guys and taking some pictures! It always makes me so happy to meet my followers. I find it very cute and fun to get to share some more personal moments with you guys. Whether long or short, I always leave smiling! Thank you for your consistent support A
As you guys have probably noticed, every fashion season I'm sporting at least one pastel colored outfit, and this one was no exception! This ensemble has to be one of my favorites because all the items are really nice individually. The sweater is a lovely creamy color that is soft with nice detailed stitching along the arms. I also think that the belt on these trousers is stunning and adds a playful spirit to the casual look. I actually found this jacket a few months ago, but decided to save it for fashion week because I thought it was a little more special, don't you think? The subtle pink pastel shade really ties everything together and I think it looks quite smart. Adding the powder blue purse as a final touch is pretty special and is perfect for carrying all of my essentials for the day. What do you think?
Tonight it's back to Amsterdam and then to the office for a few days to catch up on some things before repacking my bags for another week of fashion in the city of love, Paris! Sad to be leaving Milan, but excited for the new thrills of Paris Fashion Week! See you there A