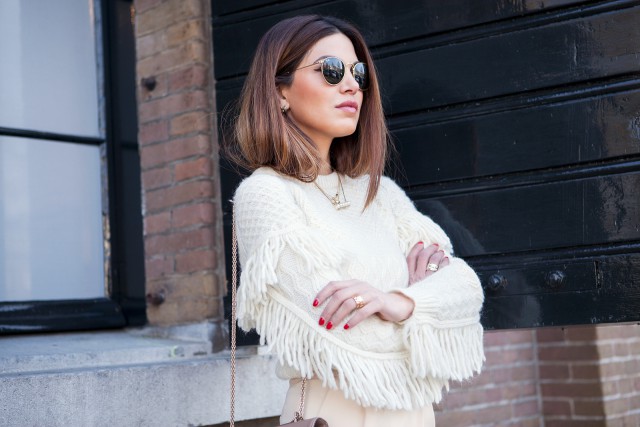 I don't know if you guys could tell from my Snapchat and Instagram, but this look was so much fun for me to shoot. I was in the best mood all day and couldn't contain my energy! For me, fashion is always something I have a lot of fun with. Experimenting with textures, cuts, colors and patterns, I'm never bored and always excited to put my next look together. So with a new season around the corner, it's time to embrace some new trends! One thing I also like to do when putting together my look is to incorporate at least one statement piece, so that it's a little more fun and the look doesn't just blend into one, and what better way to make a statement than with a little bit of fringe A
Fringe is synonymous with fun, energy and movement, so you don't need a special occasion to wear it. For me, this embellishment is one of my favorite ways to express myself. I love the swish and swoosh of the fabric! What's great about fringing is that it comes in all lengths and styles, so whether you go short and subtle or long and eccentric, there are plenty of ways to adapt this trend for your fashion persona. Fringing during the daytime should be subtle and highlight your silhouette rather than cover it up. Less is more at times! If you are worried that fringe adds too much bulk to your outfit, keep your clothes in the same color family to downplay the extra texture and smooth out the silhouette.

I decided to go with minimalism and neutral shades for this relaxing weekend look, wanting to highlight the fringe trim on the sleeves of this chunky knit sweater. How beautiful and playful is it? I felt like a bird trying to fly, moving my arms around and trying to catch the light. Too much fun! I balanced it out with a sleek trouser and my favorite white sneakers to play up the sporty vibe. I also chose to carry around this incredible Valentino purse because I thought the warm powder beige color complemented the outfit really well. I actually bought this purse last year and didn't really use it during the fall or winter, but now I think it's just the perfect staple bag for spring and summer. It's also nice that the strap is detachable, so you can carry it around as a clutch. You know me—versatility is key!