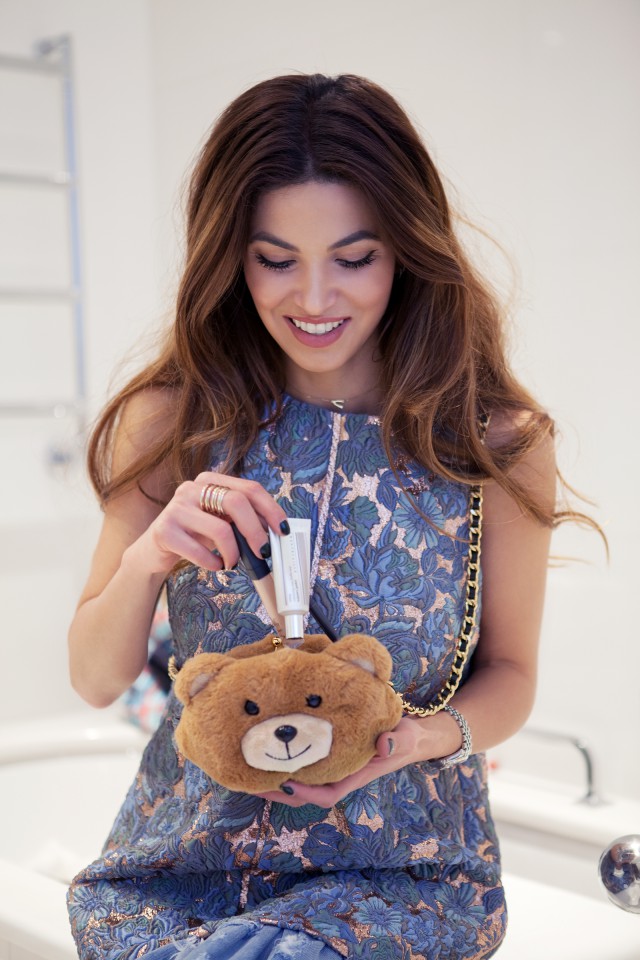 The wonderful thing about makeup is that even when you're really tired it has this amazing ability to get rid of your exhaustion and make you feel super energized. I find this to be particularly true during fashion week because I'm always so busy that I tend to lose sleep and staying awake gets to be a little tricky somedays. I leave early in the morning and get back late at night, so carrying the right makeup products has become a must if I want to stay fuelled and avoid looking too run down. After experiencing a few fashion weeks, I've found a handful of things that I always seem to pack quickly in my purse before I leave in the morning and use them periodically throughout the day for retouching.
So it's time to get down to the essentials of my makeup must-haves...to survive any fashion week! Though I'm always trying and using a lot of different products, I know that these are the most important things in my purse (how cute is this Moschino teddy bear?) because I use them so much! Our relationship is so close that I actually don't know what I'd do without them A Plus, fashion month isn't over yet so I will definitely be taking them with me to Paris.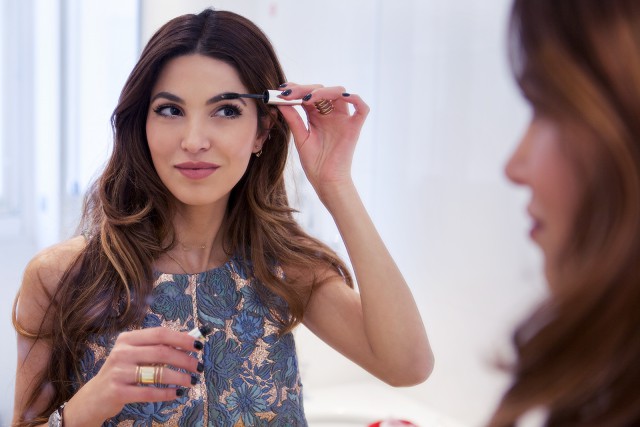 Anastasia: Brow Wiz & Clear Brow Gel
I love the way that well defined eyebrows enhance the natural beauty of your face, which is why I have two eyebrow products in my essentials bag because they are such a huge part of my makeup routine. Recently I've tried a lot of products because I always want to improve the natural look of my eyebrows and I've stumbled across two that I think do the trick! One of my favorites is the Anastasia Brow Wiz, which is a small mechanical pencil that I use for defining, outlining, and filling in my brows. What's great about this particular product is that the pencil tip mimics the appearance of tiny hairs so that after I'm done filling in my eyebrows it looks more natural. Mine is in the color ash blonde/ taupe which I like since it's lighter compared to my natural eyebrow color and therefore fits my eyes and face better in my opinion.
The second product is also from Anastasia and it's their Clear Brow Gel. It's a clear gel that is suitable for all hair colors and it helps to set, define, and keep your brows in place all day. Again, it adds to the natural look I want and is perfect for on-the-go touch ups. But sometimes when I don't have as much time to make a lot of touch ups, I have my own special trick for making them last longer. Sometimes, I like to put some hairspray on the gel brush before applying it to my eyebrows and I've found that it stays in place for an extended period of time. This always does the trick and it means I don't have to reapply it as often A But I'm always looking for an eyebrow gel that stays put the best, so if you have any recommendations I'd love to hear them!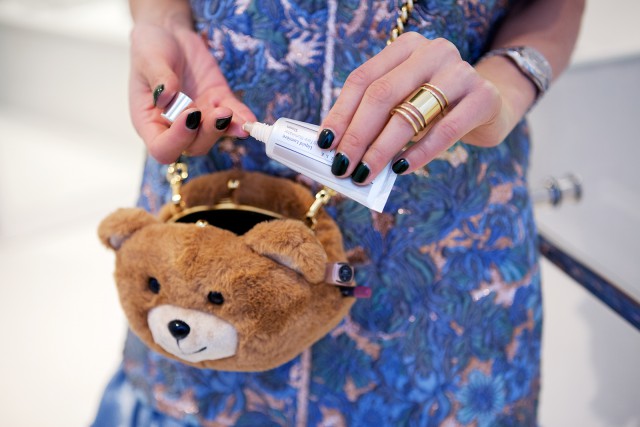 Chantecaille Liquid Lumière
An illuminator, much like a highlighter, is definitely a must-have for my fashion week essentials. I usually use a powder based product to do highlights, but this cream one from Chantecaille is incredibly light, blends in effortlessly and moreover I don't need a brush to apply the product, I use my fingers instead. There are two different shades to choose from: Brilliance and Luster. Luster is a nice choice when you want to add a pop of color to your skin, as it comes in a tropical shade of pink, but I really like Brilliance for its mixture of sheer pearl and gold. Using this illuminator on my cheekbones and bridge of my nose gives my face an instant healthy shine that makes me feel more awake, which is a must during this hectic week! Because of the light reflecting particle, when the light hits the highest point of my cheekbones a full summery glow is revealed, which is exactly what you want during fashion week (and the winter)—you want to shine brightly! Though I use it on-the-go as a highlighter, I also sometimes use it in the morning underneath my foundation because it gives a subtle glimmer to my skin.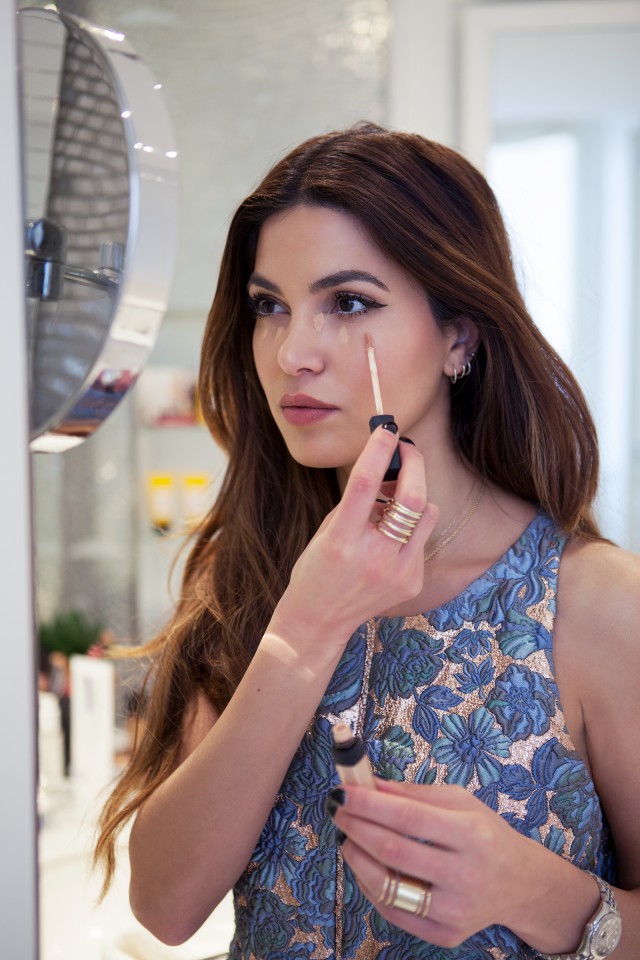 NARS Radiant Creamy Concealer:
I'm usually partial to this concealer I use from Estee Lauder (double wear), but you know me and my love with trying new things, especially when I hear a lot of people that have been loving a specific product. Recently I discovered this creamy hydrating concealer from NARS that is just perfect for those busy days during fashion week. Though you can use it all over your face, I most often apply it under my eyes to cover up the tired, darker areas and it refreshes me instantly! Due to the lack of sleep during this week, it's great to have a product that gives you a boost in no time without masking the natural color of my skin too much. After I apply it, the texture feels smooth and I like that it blends easily to create an organic luminous finish—giving me a special glow when I need it the most!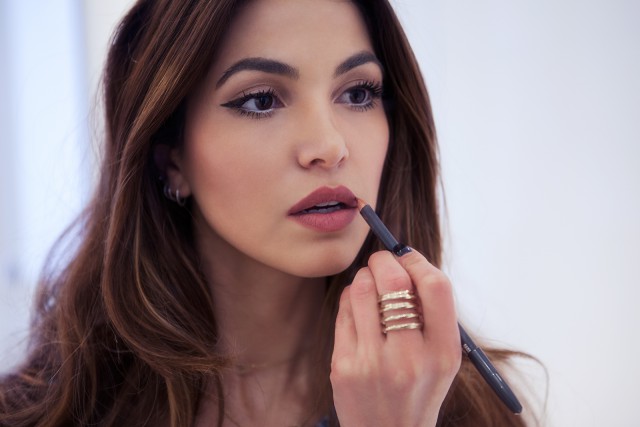 MAC Lip Pencil in 'Soar'
As most of you know, I use lip pencils a lot because I love how they can be used to change the shape of your lips without having to take any drastic measures! Most of the time I use a lip pencil without any lipstick on top of it because I love the matte finish and the pigmentation is great as well. MAC has some of my favourite lip products and their pencils work wonders for shaping, lining, and defining my lips. There are also a lot of colors to choose from—I like this one shade called Soar because I think it blends nicely with my skin tone. I think it was the perfect addition to my fashion week essentials bag!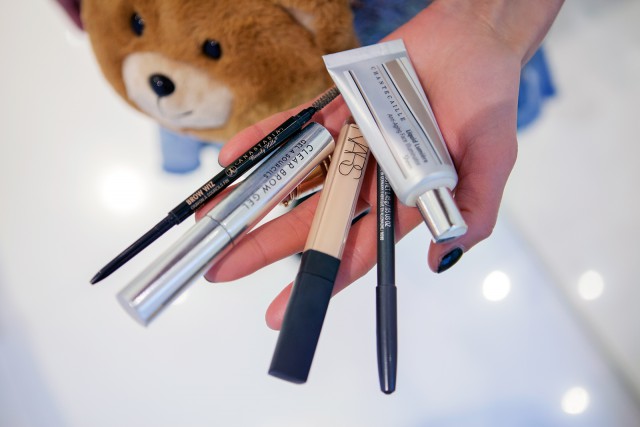 There you have it! Now you guys know the essential products I always carry around with me during fashion week to keep myself looking awake and happy, even when fatigue sets in. Thanks for following my adventures and if there are any products you think should be included in my bag, let me know!