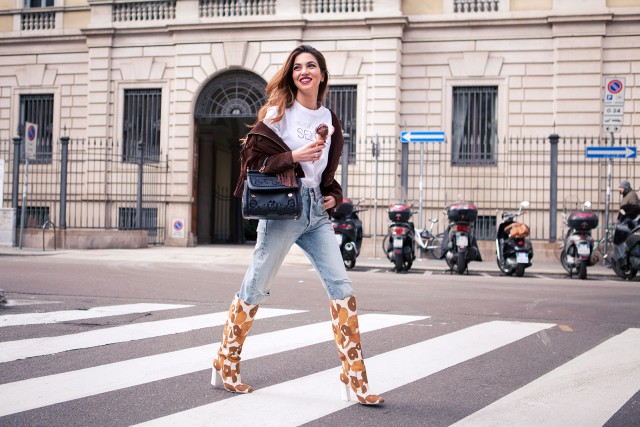 Good morning from not a hotel room this time, but my home sweet home. After Milan Fashion Week, it was nice to have a few days at home to rest, see my family, and get caught up with a few things at the office. The change of pace, from running around Milan to sitting in from of my laptop, is very welcomed. I really needed that time to regather some energy to go take on another fashion week, this time in Paris! We're off to the city of lights to watch a lot of new shows, go to a few meetings with brands that I'm very passionate about, and attend some events.

I'm really looking forward to all of it and can't wait to share these new adventures with you. What's great about our home base in Amsterdam is that it's really convenient to both Milan and Paris, making the journey to and from a lot less stressful and not time consuming. That means more hours spent experiencing the city and not adjusting to time change A! Paris has always been one of my favorite cities to visit and not just because of the fashion. There is so much culture there, from architecture to food, that you can't help but feel carefree and motivated. When I get there, I usually like to mingle among the locals and try to absorb their energy to pretend like I'm French—that is until I'm expected to speak and my cover is blown! But it's still fun none the less.

But before Paris, there are still a few looks from Milan that I want to share with you guys. For one of our final days in Italy, I decided to go for a more laid-back look with this super cute Believe in your Selfie t-shirt. How fun is it? You guys know how much I love Instagram and how prominent selfies are on that social media outlet, so I thought it was the perfect fit. I also like that it's a little bit playful with the use of the term selfie because it is inspiring self-confidence and that's always a good thing! If you're not going to believe in you, who is?

I chose to pair it with some faded Levi's jeans (men's 501) and this great vintage fringed coat, which I think ties the look together. What's nice about this outfit is that if you're just looking at it from the knees up, it looks quite simple, which is not a bad thing but you know I always like to include a special touch to everything. These MaxMara boots really take the ensemble to a different level and makes it a little more exciting. I think that the contrasting geometric floral pattern on these cotton gabardine boots is stunning and I love the 70s vibe that they give off, especially when paired with the fringed jacket. The wide high heel also makes the look a little more fun than a serious skinny stiletto. This is a great in-between look because you can wear it for any occasion, from fashion shows to brunch to exploring and enjoying ice cream in a city you love. I like when comfort and versatility are matched perfectly A. Who doesn't want that?