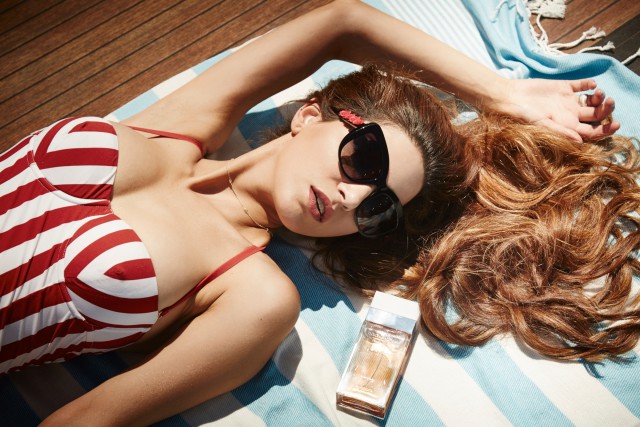 This blogpost is in collaboration with Dolce & Gabbana.
As you guys probably already know, we visited the Aeolian Islands with the Dolce & Gabbana team for a very special project. I have to admit that Italian island hopping with Dolce & Gabbana is more than a dream come true for me—it doesn't even feel real! I'm so excited about this incredible collaboration and journey I've embarked on with the D&G team in Italy for their #LightBlueJourney campaign.
Their past advertisements for their now iconic fragrance have become synonymous with the wild beauty of the Mediterranean and it's captivating romantic qualities. So it's definitely been a pleasure working with their team on some shoots for two limited edition perfumes. What makes this project a little closer to my heart is that their Light Blue fragrance was actually one of the first ones I ever wore. Crazy, right? A timeless fragrance has this incredible power to take you back in time and I love how a simple smell can hold so many powerful memories. Now that invigorating scent has taken me to the Aeolian Islands, a place that is beautiful beyond words, where I was surrounded by the powerful blue shades of the sea.
Navigating this picturesque landscape by boat made this shoot a lot more exciting. With the sapphire blue waters surrounding me and the prominent sun shining, I just couldn't stop smiling! Being out there, floating on the water, was without a doubt the perfect backdrop to compliment any look, but especially this incredible Dolce & Gabbana pinstriped bathing suit. It's such a beautiful sensual piece that radiates old school glamour and really enhances the romantic energy of the location. I was so happy that everyone on Instagram seemed to love the suit just as much as I did A
I was also happy to have shared this little adventure with a fellow blogger from Sweden, Andreas, and we just had so much fun together. Everything we did with the team was so productive but never felt like work—the entire week was a blast and I can't wait to keep sharing more with all of you. I hope you will all enjoy going on this fun journey with me—who knows what new memories each smell will hold!