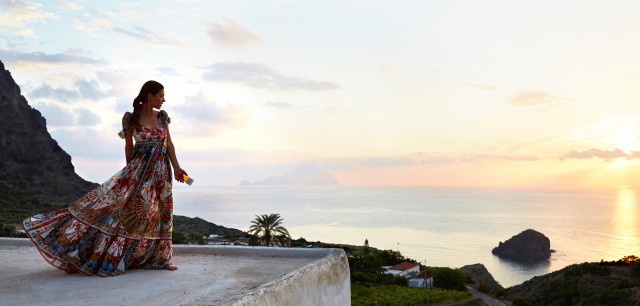 This blogpost is in collaboration with Dolce & Gabbana.
At last, we've reached the final chapter in our collaboration with Dolce & Gabbana and I just happen to think it's the most special. For our last day, we visited the enchanting Aeolian island of Salina and I can honestly say that there is no other place quite like it. There is an infinite warmth and sweetness to this island that made it feel ethereal, as though it came straight out of the pages of a fairy tale. Needless to say, it was hard saying goodbye.
Surrounded by rich bodies of water, this Mediterranean garden of Eden had me in awe from sunrise to sunset. With all of this natural beauty in one place it's hard not to feel inspired and its influence resulted in an incredible new limited edition fragrance, appropriately named Sunset in Salina. Once spritz and I was hooked. The impeccable combination of seductive floral scents had me swimming in delight and I can see it being a regular in my beauty arsenal. It's sweet charm perfectly reflects a romantic evening exploring a new landscape at twilight and it encompasses the feeling of a long, productive summer day coming to an end. This fragrance is like a celebration of everything beautiful and I think that it's best to be worn for an evening that commemorates something special, something close to your heart. Every time I wear it, I'll think of my last sunset here in Salina, my deep connection with the brand, and all of the things that are to come.