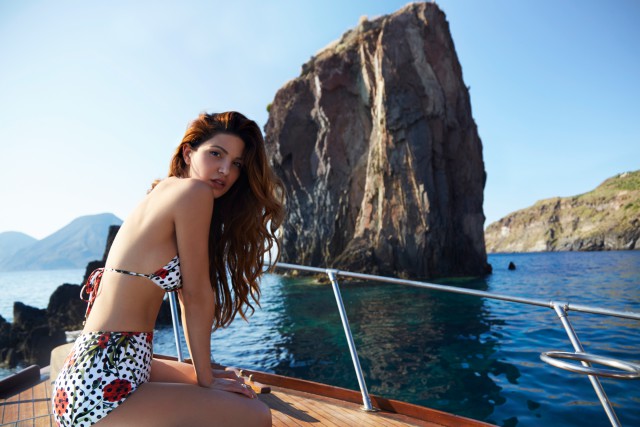 This blogpost is in collaboration with Dolce & Gabbana.
I'm really excited to reveal the second part of our collaboration with Dolce & Gabbana and take you to the first of two Aeolian islands we visited. Our first stop took us to the charming island of Lipari. After sailing along the water and soaking up the sun (so beautiful and relaxing!) it was time to shift gears a little bit. Stepping off the boat onto the island, I felt this curious and lively energy hit me the second I stepped on land—I couldn't wait to start exploring everything.
Both in white, Andreas and I wandered the island and I soaked up every ounce of inspiration I could. At the end, I was visually left in awe. There is this beautiful contrast between the light volcanic stones that we walked along and the lively green backdrop around us. Then, of course, everything is surrounded by the bluest waters I've ever seen. It was pure magic! I was briefly living inside of a postcard and never wanted to leave.
While exploring, we discovered a few local gems that make these types of trips that much more special and authentic. We stumbled upon a local restaurant that served the best food I've ever eaten and you could tell all of the ingredients were sourced regionally because of how fresh and wholesome it tasted. I couldn't get enough! I also found some local honey that I just had to buy and bring back to test with my dad, to see whose was better of course! Both are delicious, but I'm a little biased in thinking my dad makes the best A At the end of our exploring, we could even see the island of Salina, which would be the next stop on our journey with Dolce & Gabbana (coming soon). It was nice to catch a quick glimpse of what inspired their limited edition perfume, Sunset in Salina. What's great about these perfumes is that they're not limited to just day or night wear. I feel like the joy and essence of the a summer spent in the Mediterranean, from morning to evening, is truly captured in these fragrances—it's like a never ending summer romance! I love that now I'll always be able to connect these scents to my time spent here—the warmth of the sun and breeze from the sea will never fade.