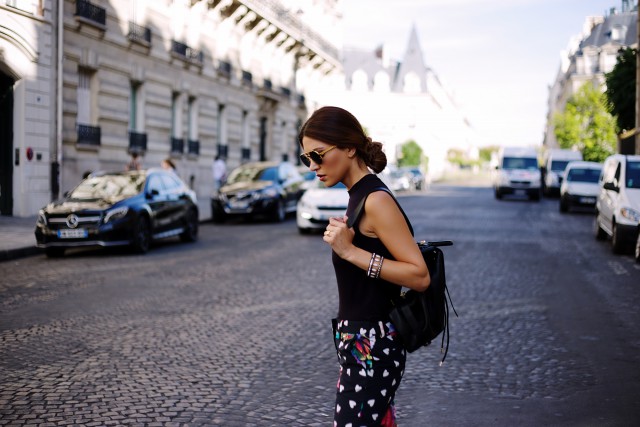 This blogpost is in collaboration with Via Delle Perle.
You know that saying, "Not all those who wander are lost," well I definitely feel confident about each wandering step I take when I'm wearing something that is equally comfortable as it is chic. When exploring through the streets of one of my favorite cities, a place known for it's incredible high-fashion, I really enjoy creating the perfect casual street style look. It's the ideal opportunity to mix some essential laid-back basics with something that grabs a little more attention, and these divine printed trousers from Via Delle Perle do just that—statement pieces for the win!
I absolutely love the playful florals on these trousers and the colors are so lush and vibrant against the black fabric, giving them a very unique feeling that is well suited to this beautiful weather. I'm also a fan of the delicate little hearts that are scattered along the legs—kind of symbolic of my love of venturing out onto these great Parisian streets! What's great about these trousers is that you can either dress them up for a night out with friends (just add heels!) or down, like I did, for a day of walking around. I wore them with my favorite pair of crisp white sneakers to give it a clean, more sporty feel, but to enhance the sophistication a little more I chose to wear a solid black, sleeveless high-neck shirt. I'm really loving these sleeveless high-neck shirts right now because I find them to be very classy, refining any look, but they also give of an approachable relaxed vibe, which is very appealing to me. It completes the look and keeps these beautiful pants as the focal point. Now I'm ready to wander!