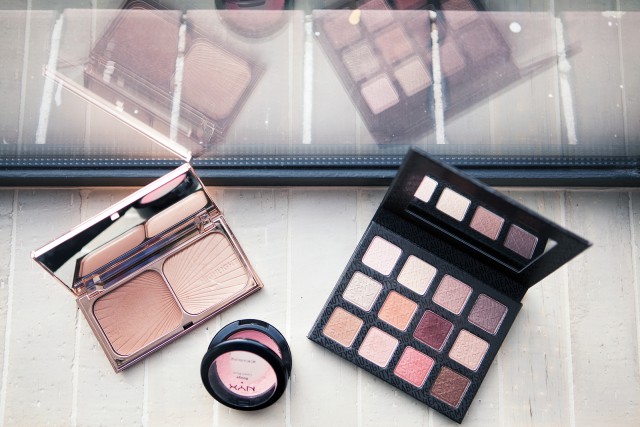 My love for makeup has definitely evolved from something small, where I'd only use a bit of mascara and foundation in high school, to a greater passion where I get to feel like an artist experimenting with shades and shapes. Since I feel this way about makeup and since I love to test out products, I felt the need to share some of my more recent favorites with you. Some of them are new, but I also rediscovered a few while reorganizing my makeup collection. Here are the beauty products that have made it to my most-used list: a hair mist, three cosmetic products, and a gift set.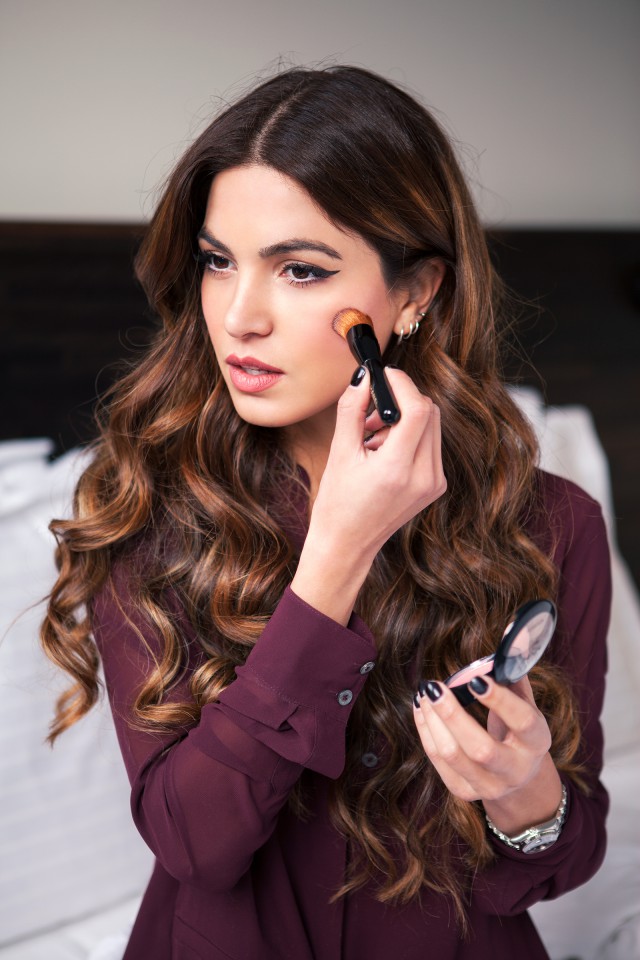 NYX Rouge Cream Blush in Boho Chic
Some makeup products are like old friends: they're always there, dependable and reliable. Boho Chic is a perfect example as it has been a part of my makeup collection for a long time, which you probably already noticed as I hit pan a while ago. First of all, this cream based blush from NYX is very affordable. Secondly, it's a light pink color with a cool undertone, which gives your complexion a beautiful subtle sheen. The creamy texture is especially great when your skin turns a little dry during this co weather. One swipe of the Rouge Cream gives your cheeks just the right amount of color to your complexion – as if you just came back from getting some fresh air. When I'm not on-the-go I apply a cream blush with a duo fibre brush.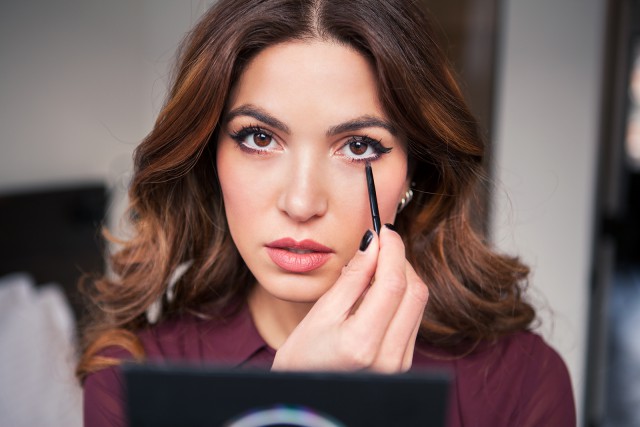 Sigma Warm Neutrals palette - Rusette
This deep, deep red from Sigma's 'Warm Neutrals' palette is elegant and slightly different from standard eye shadow colors. The specific shade from the palette is called Rusette and it is really similar to the shirt dress I'm wearing in the pictures. In general, maroon shades compliment brown eyes perfectly because of the rich blue undertones – but it also flatters blue or green colored eyes really well as it results in a bold contrast. My favorite way of applying Rusette is to take a small brush, like this one from Chanel (read on to discover more about this), and run it along my bottom lash line. Using a white or nude colored pencil on the waterline makes the eyes stand out even more!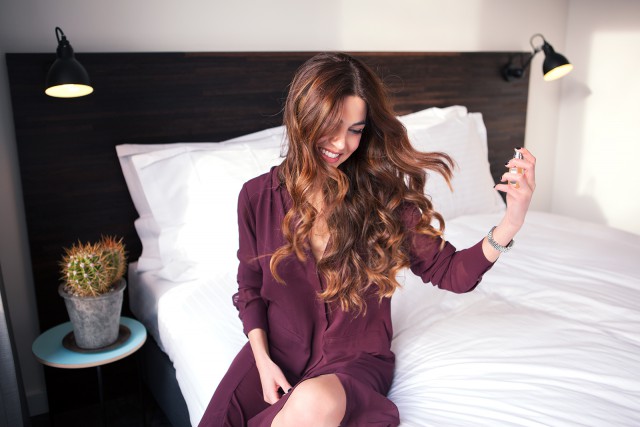 Chanel Chance Hair Mist
A perfume especially designed to spray the hair delicately with Chanel Chance? Sign me up! I've seen many luxury brands launch fragrances pour les cheveux. Why? It's the perfect way to let your hair smell like your signature scent, without drying it out by using your regular perfume (which I use to do all the time). This hair mist is paraben and sulfate-free, and comes in a 35ml bottle – just the right size to put it in your handbag. That way you can reapply Chance to the ends of your hair whenever you like and enjoy notes of jasmine, pink pepper, and amber patchouli.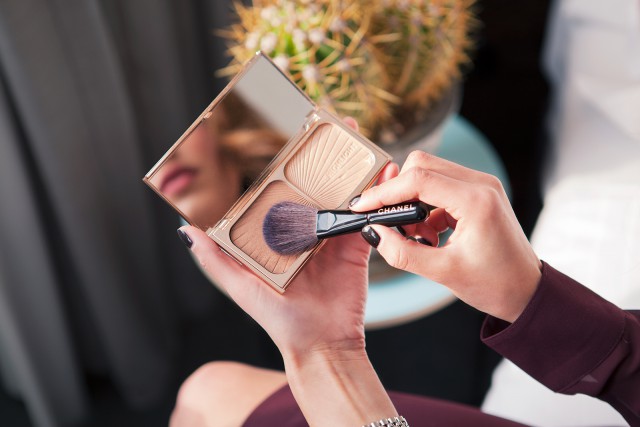 Charlotte Tilbury Filmstar Bronze & Glow
Oh, I've been wearing this powder duo non-stop from the moment I got it – which was right before we left for Dubai and it reminds me of our holiday every time I apply it. In Charlotte Tilbury's Filmstar Bronze & Glow palette you will find a bronzer and highlighting powder: both in a universal shade that suits pretty much every skin tone. The bronzing powder is slightly shimmery, so I personally use it mainly to give my face a sun kissed look, and just little bit for sculpting (as for contouring it's always better to use a matte bronzer). To bring out the highest features of my face and create a luminous glow I use the highlighter, which contains 'Light Flex Technology' to capture the light. The fact that there are two products in one packaging makes it really easy to carry it in your make-up bag. Plus, did you know that the gold colored compact is inspired by the cigarette cases from the roaring twenties?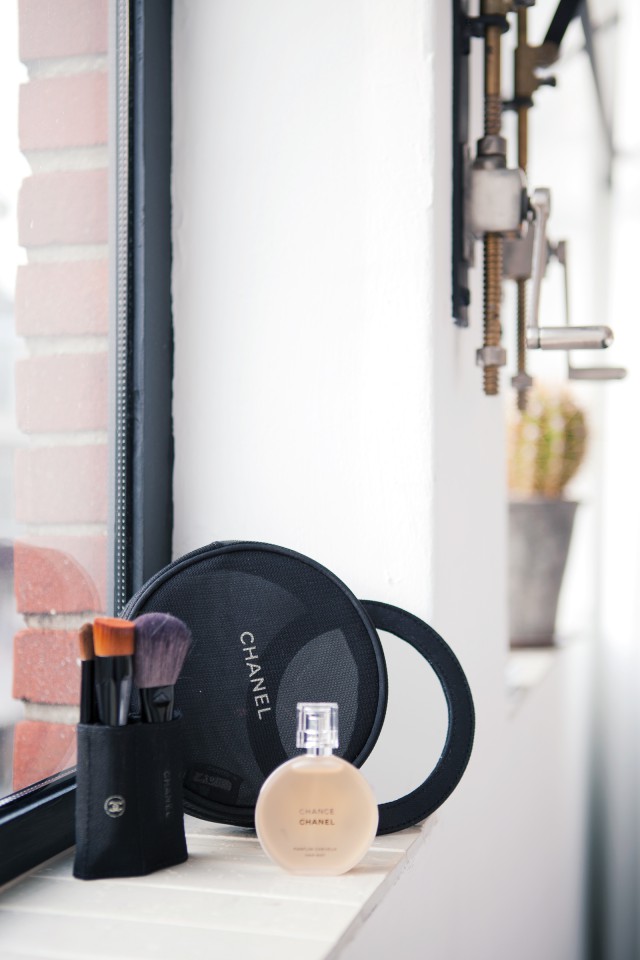 Chanel Set
Speaking of makeup bags, I got this set as a Christmas gift and it consists of a pouch, some brushes, and a mirror. When it comes to makeup bags, there is one thing that is essential: I have to be able to quickly scan what's inside it, as I don't like wasting time searching for products. That means it has to be transparent! This small, round bag from Chanel is made of a mesh material, making it the perfect makeup bag for me. It also has a mirror, which of course comes in handy when you're in need of a touch-up. The brushes can be used for different purposes such as foundation, blush, and eye shadows (which are used in the pictures above as well). A slight drawback is that sometimes I find it just a little too big to carry around with me in my bag. But this, of course, depends on the bag I'm carrying.

I hope this post was helpful for you guys. If there are any beauty products that you're a big supporter of please don't forget to share. I'm always open to try out new products. A