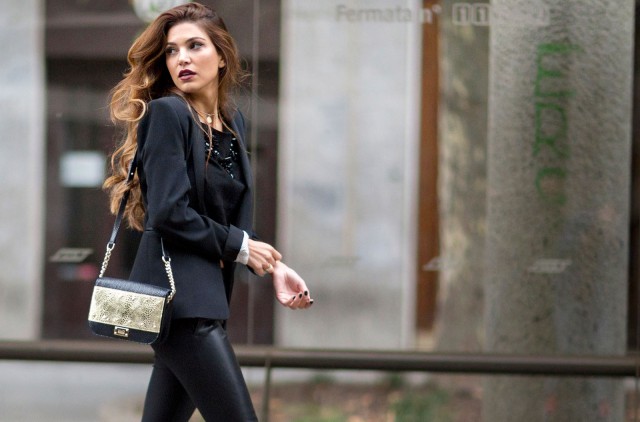 This blogpost is in collaboration with Liu Jo.
With the holiday season just around the corner, it's hard not thinking about what sort of festive looks to wear, especially when there are so many things to choose from. This total black outfit is perfect for Christmas here in the Netherlands because it gives off a subtle glamour that is ideal for any holiday party. Layering a variety of dark fabrics works wonders because I still feel chic without being too exposed to the elements—it's quite cold outside after all!
The key to pulling off an all black outfit like this for these sorts of occasions is mixing and matching materials to add dimension rather than being minimal and flat. Leather pants are always my go to for adding a bit of edge to any look, but for a holiday party I can balance them with more delicate pieces. I love the floral shaped embellishments on the front of the shirt that glisten when light hits them. It's subtly is what makes it so alluring and I especially love that the details are still visible when I wear a statement blazer like this one from Liu Jo. It's these tiny features that make an outfit feel more special. Plus, the loose fit of the blazer and sleek material enhances the overall elegance of this look. To finalize this holiday outfit, it never hurts to accessorize with a bag with a splash of gold. The size is just right for any Christmas or New Years party, as it's able to hold all of my essentials, plus it compliments the entire ensemble just right A To get further inspiration for these sort of special occasions, I've been looking at the upcoming collections of Liu Jo and there is everything from colorful prints to denim basics. With so much variety, it's hard to not find exactly what I'm looking for, which is great. A wider selection is better than a limited one!