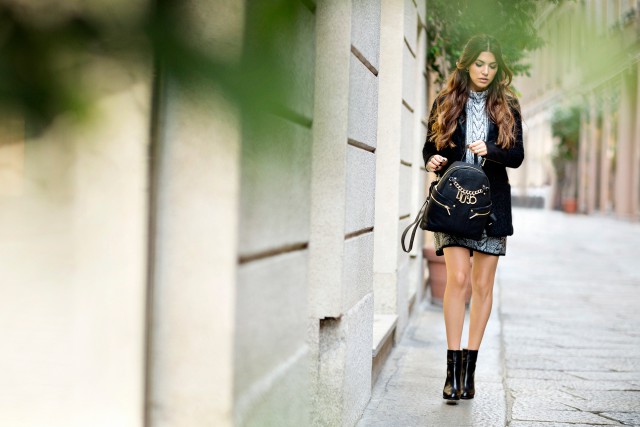 One of my favorite things about the inevitable cold of fall and winter is that I get to pull out some of my best-loved knit pieces to warm me up. What's great about a knit sweater dress is that it's so effortless in it's appeal and can be worn from day to night. I love this one from Lui Jo, but it's a little misleading at first because though it resembles a classic knit pattern, the material is different, which is kind of cool. This minimalism of the light grey color is balanced by the clean and beautiful structure that is highly flattering from 9-5. Cozy and elegant sophistication—Yes please!
To add a little bit of layering, I paired the dress with this playful black jacket that seamlessly mixes together comfort and edge. I find it appealing that the body has a warm textured appearance while the sleeves and collar are refined with leather. It really enhances the look. Plus, you know I'm a huge advocate for black boots, so I paired the dress with a the most comfortable, reliable footwear around. While in Milan, I had a few hectic days where I was running all over the place in these boots and magically my feet were still in great shape at the end of the day. Hard to argue with that A
To complete the look, I can't deny my love for a good backpack, especially when I'm traveling. This one is great because it's more of a statement pack, with Lui Jo written on it and I like that the gold metal detailing really pops against the leather. It complements the outfit nicely and it's an essential for traveling, embodying my love for adventure. I guess the next question is, where to next?