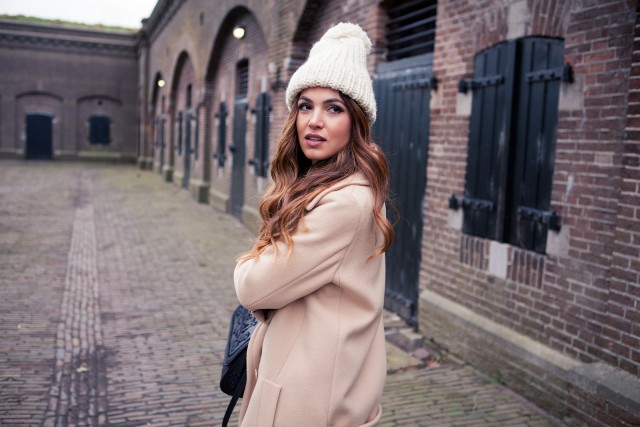 This blogpost is in collaboration with Net - A - porter.
Hi everyone, I hope you had a great start of 2015! At the moment Maurits and I are exploring Dubai, which is our first time here. And it's also the first time in six months that we're not travelling because of work, so during this trip we'll be able to plan our own schedule and do a lot of fun activities (can't wait to go horseback riding in the desert by sunset). A Because of our winter getaway I'll be posting a little less on the blog than you're used to, but of course I'll update you on Instagram as I love sharing our adventure in the United Arab Emirates with you!

As you can see in these pictures we're escaping the cold weather; we shot this right before the first snow in The Netherlands arrived, so I had to dress warmly. But that was pretty easy with the luxurious winter items I sported that day, which was first of all my brushed-wool coat from Stella McCartney. This sand-colored jacket is double-breasted and has those big lapels, which really makes it stand out to me. Underneath I wore an off-white Marni sweater that features nice details such as the ribbed turtleneck, and a pair of boyfriend jeans that I decided to rip for an edgy effect. Last but definitely not least I have to mention my new favorite tote called 'Sicily' from Dolce & Gabbana. With its black calf leather, gorgeous cut-out details and golden hardware it truly suits every occasion. I was really on the search for a new black bag for winter so I could wear my Chanel Boy a little less. But it turned out this wasn't an easy task as I have been looking for one over 6 months.
As you might notice for this look I did some serious shopping on Net-A-Porter, which is my go-to web shop when it comes to purchasing garments from my favorite designers. They always seem to have the items I'm searching for and I really consider them to be investment pieces. I know already that the Stella McCartney jacket is one I can wear 5 years from now as well and that the Dolce & Gabbana tote is one you will see me wearing most often the coming period of time.

Before we're discovering more of Dubai I wanted to let you guys know that I really loved opening up to you while writing the 2014: Highlights + Challenges post. I'm really glad to see that you appreciated the personal stories that I shared, as this was an article that's really special to me. Reading all of your sweet (and long!) comments made me extremely happy and I mean it when I say– you guys have my heart.
I was wearing:
Bryce Wool-Blend Felt Coat
Marni Turtleneck Sweater - similar
Pop Vintage Boyfriend Jeans - ripped myself
Sicily Medium Cutout Leather Tote
Saint Laurent Leather Belt
Rain Chunky-Knit Wool Beanie
Tibi Black Boots- Love These