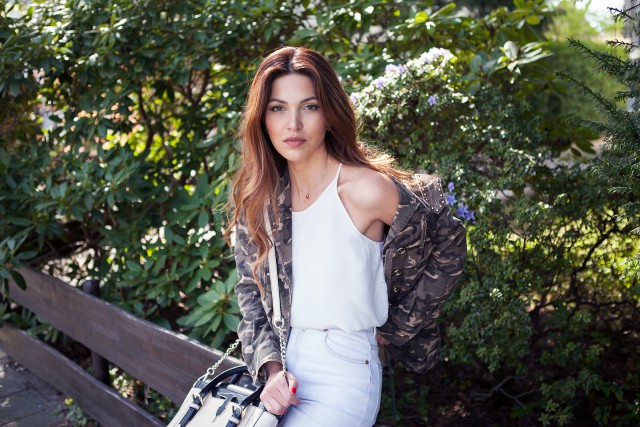 We just got back from Cannes and I'm still processing one of the best experiences we have had so far! I am still so full of happiness from that entire trip and I can honestly say that even though it was so busy (our schedule was packed from day to night!), it's officially one of our favorite work trips. It was nonstop excitement from beginning to end. Getting to work so closely with the Boucheron team was such an honor and I love how much we clicked. And let me tell you that since we've worked with so many great brands so far we started to notice how important it is to have such a click.

And what about the three red carpets I walked? During every single one of them I felt so special wearing beautiful dresses from Elie Saab and Georges Hobeika. And of course Boucheron's jewelry made it all feel so much extra special. We even had a security guy with us the entire time to protect the jewels. I found it quite funny as it sometimes felt like it didn't matter if something happened to me if only nothing would happen to the jewels lol.

Also being able to attend the Kering Women in Motion event, which highlighted women's contribution to cinema, was an incredibly humbling experience. Their role in the film industry is so important and it was incredible to be a part of the entire programme. Now after all of that running around and dressing up, I'm happy to be home for a bit and embrace some more casual looks.
To really embody that chic casual style, I wanted to keep my look clean, but with a special touch, and prints can do just the thing! From the French word camoufler (to disguise), comes the iconic camouflage print, but when it's not worn in a strictly military environment it does anything but blend in. In fact, it's meant to make you stand out! This print can be somewhat intimidating, but it's quite versatile and I like to embrace it in my wardrobe year round. I think that it's an easy way to give any look a bit more edge and resilience, especially in the warmer months when we lean more towards those light, loose and floral looks. I don't think I could ever wear it from head to toe, but simply adding a printed coat can enhance a simplistic outfit automatically. This type of jacket tends to give off a tougher, more rugged feeling, but I like that it can be made to look soft and feminine when paired with tailored garments and clean colors. I always have a lot of fun experimenting with making my outfit a little more special and this sort of piece does just that. It's the perfect look for a day outside in this beautiful weather and it can be worn from day to night. Then to punch up the sophistication, accessories always come in handy A Spring doesn't mean you can't still have some edge to your outfit. Have fun with it!