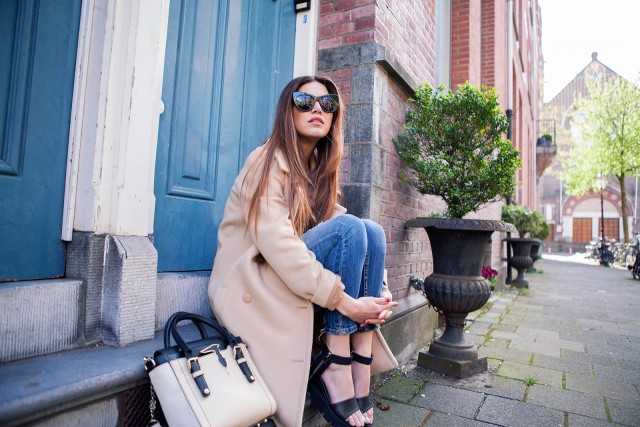 This blogpost is in collaboration with Veuve Clicquot Polo Classic.
We just landed in Amsterdam after our 4 day trip to the Big Apple. The primary reason for visiting this crazy city was the Veuve Clicquot Polo Classic, which was so much fun as it was out first time. After the event, since we were already there, we decided to take it easy on Sunday and do a full round of meetings on Monday. During the last days of our stay in the city the weather was not ideal, with clouds and rain taking over! Even the weather in Amsterdam is better today (which doesn't happen that often). So now we are home for a couple of days before head out on more exciting adventures that are on the way in the upcoming weeks (sunny destinations).

Today I wanted to share this look with you from last week when the weather in the Netherlands was more fall-like.
When Mother Nature is still trying to make up her mind, a good multifaceted coat becomes a mandatory part of my wardrobe. Having the right outerwear that is easy to remove if it gets warm (yay sun!) but is also able to keep me warm when the wind picks up or it starts to rain, is hard to come by. I think that a good camel coat is the perfect choice for these unpredictable weather patterns because the color is neutral, fit for spring, and isn't too heavy to carry around. Who doesn't want a jacket that is multi-seasonal and versatile? If it gets too cold, just turn the collars up! Too warm? Put them down and let the jacket hang off of your shoulders. There is an effortless classy sophistication about this coat and it can enhance anything from the classic staples (like a t-shirt and jeans) to an evening dress. The simplicity of the design makes it so that there is never an occasion that you couldn't wear it.