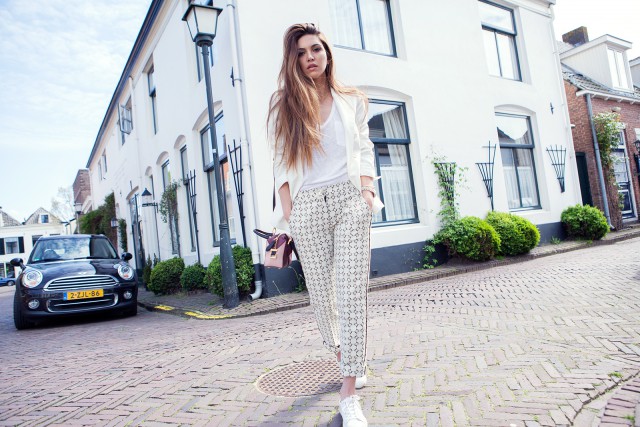 This blogpost is in collaboration with Via Delle Perle.
We've got an exciting few days ahead of us because tomorrow we leave for New York (I'm packing my bags right now)! We've been at home longer than usual, which has been nice, but now I'm looking forward to a new adventure. We initially planned to leave on Tuesday, but ended up changing that because we had a bunch of stuff to catch up on and future projects to work out. Now I can start getting excited to leave because the last time we were in New York was during fashion week and the weather was frightfully cold! This time around it's going to be a lot warmer, probably a wee bit humid, but that's okay because it's NYC—no complaints here! We are attending a very special event there (first time!) and I'll make sure to tell you more about it tomorrow. I can't hardly wait A
But before we get on that long flight across the ocean, I wanted to share this look with you that I wore a couple of days ago. I think that white is such a clean and sophisticated shade for this time of year and is perfect for a day at work. You know that I'm all about finding the perfect statement piece, especially when I'm wearing an ensemble that doesn't short much on the color spectrum, and these cuffed trousers from Via Delle Perle are just that! Combined with a long, straight blazer and a pair of white sneakers, these printed pants are the perfect example of youthful and playful fashion, while at the same time it is very office appropriate. I like how form fitting they are and how the symmetrical pattern is feminine, unique and elegant. They grab just the right amount of attention! You can also wear them with a pair of heels and take this look from day to night—yay versatility (is key)! I hope you guys are embracing fun patterns for the warmer weather and don't be afraid to take a bold risk with your prints.