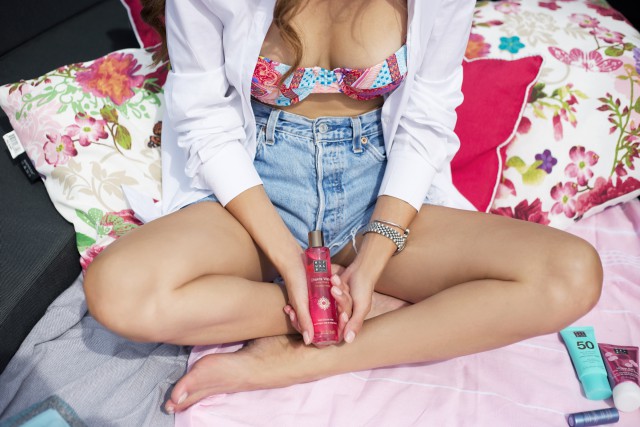 This blogpost is in collaboration with Rituals.
Since I've been so busy with New York Fashion Week, and now getting ready to jet off to Milan for their fashion week, it's been a little bit tricky to find any time to relax. Having me-time on the road is hard, but I do my best to always find a moment for just myself. With routine thrown out the window, traveling all of the time can do some serious wear and tear on my body, which is why me-time is so essential to my overall well being—not just physically, but emotionally and mentally. It grounds my perspective of things and lets me see the bigger picture instead of stressing out about all of the little details. It's nice to feel the pressure released from my shoulders while a tranquil energy takes over.
I believe it's important to take a moment for yourself at the end of a busy day to unwind and relax, but I'm only human and sometimes I forget to do this or I just can't justify the time. However, when I do finally have a moment for myself, there are a few ways that I like to spend the time. One of my favorite ways to reach this sense of calm is to be out on a boat. There is nothing quite as soothing as the sound of water flowing by and being surrounded by nature. Then there is of course my father's bee garden, again surrounded by nature and a quiet serenity. That environment is so magical and peaceful, and I always leave feeling thankful for my time spent there. When I don't have the opportunity to be outside, then I make a point to mediate even if it's just for a few minutes. What's great about mediation is that you can do it anywhere, so even when I'm traveling for weeks on end, I can take a moment to reconnect with myself. To me this is really important, because when you're mentally refreshed, you're able to fulfill your daygoals ten times more.
Weather I'm at home or busy going from to trip to trip, for these zen-moments I'm using the Rituals app for a couple of weeks now, and I'm really excited about it!! It gives me the chance to always have some me-time, no matter where I am in the world, as it helps guide me through various meditations. What I really like about it is that there are a variety of mediations, so I can alternate between Relax your body, Relax your mind, and Enjoy the moment. For every mood and need, there is an option to choose from. This way there's a fun exercise to do for everyone. They work in different ways but in the end, whether I've spent five or twenty minutes meditating, I always feel that the tension has been released from my body, that the stress in my mind is calmer, and that my ability to remain present and in the moment has improved. Also during this me-time, I feel as though I'm becoming more creative and productive, like everything is being reset and I can think with clarity. This application really helps me a lot; that's why I really wanted to share this with you in the hope it will fulfill your inner health-goals as much as it fulfilled mine.
On the search for some peace of mind? I can highly recommend this app! If you guys are interested, check out rituals.com/app for more information or just download the Rituals app here.
Me-time is definitely worth your time A