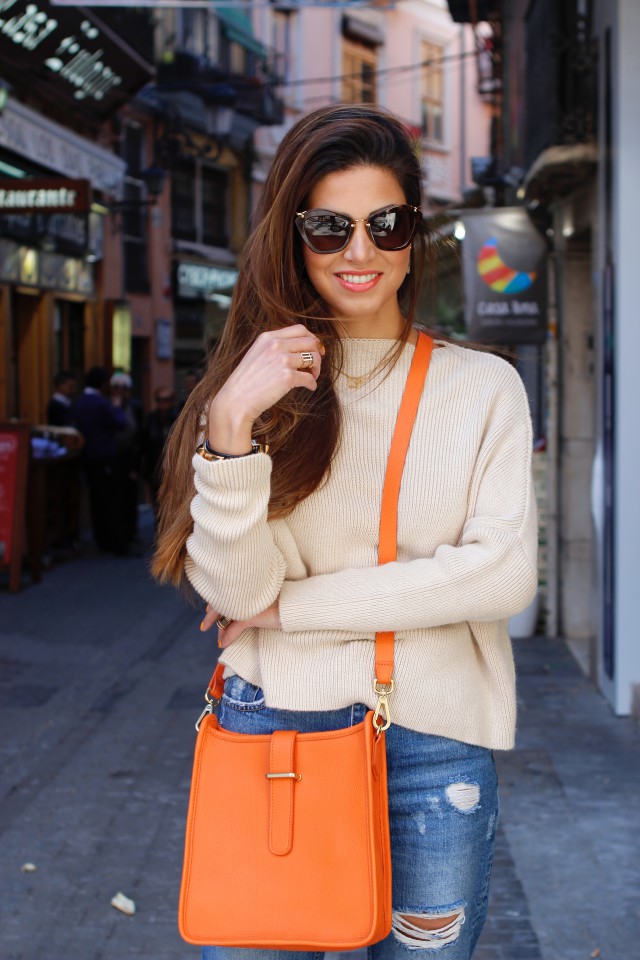 I'm super excited to share my Valencia experiences with you guys from now on. We've arrived here a couple of days ago to shoot 4 projects which I will all share soon with you. But of course I want so start by sharing our first day in the beautiful city I've (crazy enough) never visited before.

As some of you might know Valencia is famous for its oranges and somehow I ended up with sporting my new GiGi New York bag in a matching orange color. I still think it's a complete coincidence because I didn't think about it in this way, but perhaps it could have been some kind of unconscious decision? Hmm..

The weather in Valencia is perfect where it actually feels like spring. It was the perfect occasion for me to wear my new favourite spring/summer colours. Last year spring/summer I was really into wearing gray tones, this year though it will be all about nude tones again, just like two years ago. So this is exactly what I did with a nude toned knit and my Valentino heels. To add a pop of colour I obviously matched it to orange bag. In my opinion nudes and orange complement each other perfectly. So if you ever decide to sport a nude outfit and want to add a splash of colour, think orange! A

I completely fell in love with the cross-over body bag from GiGi New York, as most of you know one of my all time favourite brands since the start of my blogging adventure. To be completely honest recently I've been preferring to wear cross body bags because I feel it makes life much more easier. Mainly since both arms have the freedom instead of one having some sort of difficulty managing to hold the bag in the right place. Also when choosing the colour for this bag I was in such doubt since there were quite a few I fell in love with, and in particular the neutral colours. What do you think?
I was wearing
GiGi New York Elle Cross-body bag
Zara Jeans
Mango Knit or Here
Valentino Heels
Hermes Collier de Chien Cuff
Mango Touch Rings
Miu Miu Sunglasses