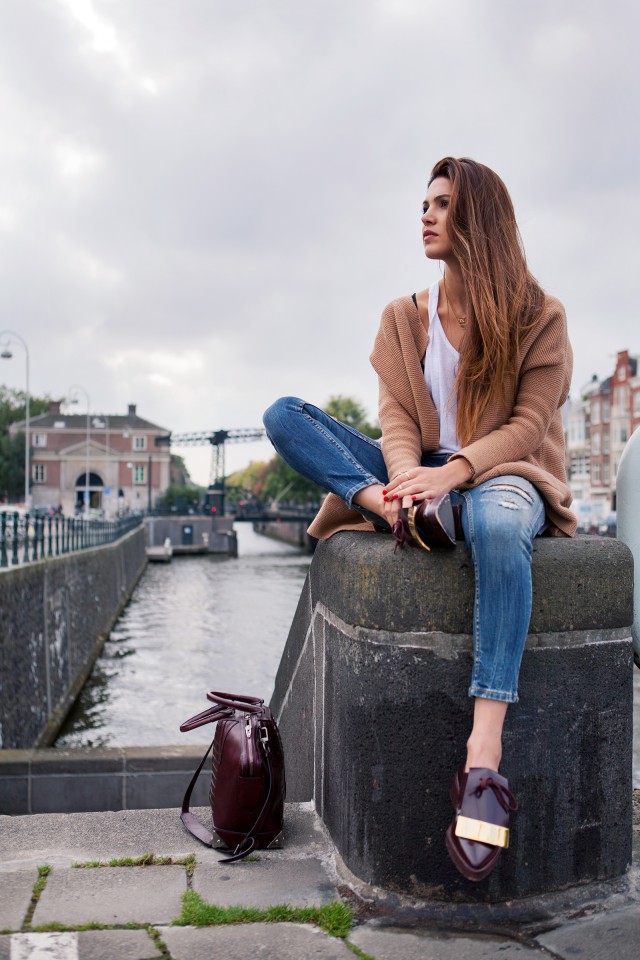 Happy Monday everybody! Are you guys ready for a new week as well? I sure am. I had the most relaxing week-end ever. From Friday night I spent my time with Maurits, friends, and family over dinners, going to the movies (Gone Girl, really recommend it), and last night at my moms while going through old photos. Since I started blogging, our week-end changed in doing a shoot on Saturday and catching up on e-mails on Sunday. Not that I'm complaining (not at all), it's just that I can appreciate these kind of week-ends now more than ever.

And after two day's of re-booting I'm super excited for a new week. I can hardly believe that tomorrow we'll be leaving for China! I've never been to Asia before, so you can imagine my continuous smiling face. And although it's not the typical backpack kind-of-trip I really want to do one day, we have the amazing opportunity to join one of my favorite brands.
First though, I really wanted to share this easy-going look in which I combined some of my favorite autumn basics. We were outside in Amsterdam, rushing from one meeting to another. In these images you can clearly see how the weather is changing right now! And when the temperature is falling, I start wearing knitted clothing more often. I love cuddling up in those soft and cosy items. A
I was sporting a pair of ripped jeans (probably my favorite of the moment) with a simple white tee, which is always a good idea right? A knitted camel coloured cardigan kept me warm during the day, and of course I took my Marni boots with gold plaques for a walk. I also carried my Alexander Wang bag with me. Those who follow me from the beginning, know how much I loved this bag last year, the year before, and most definitely still will, this year.
I was wearing
Maxi Wool Cardigan
Ripped Skinny Jeans
Layered Tank Top
Marni Shoes
Alexander Wang Emile Bag