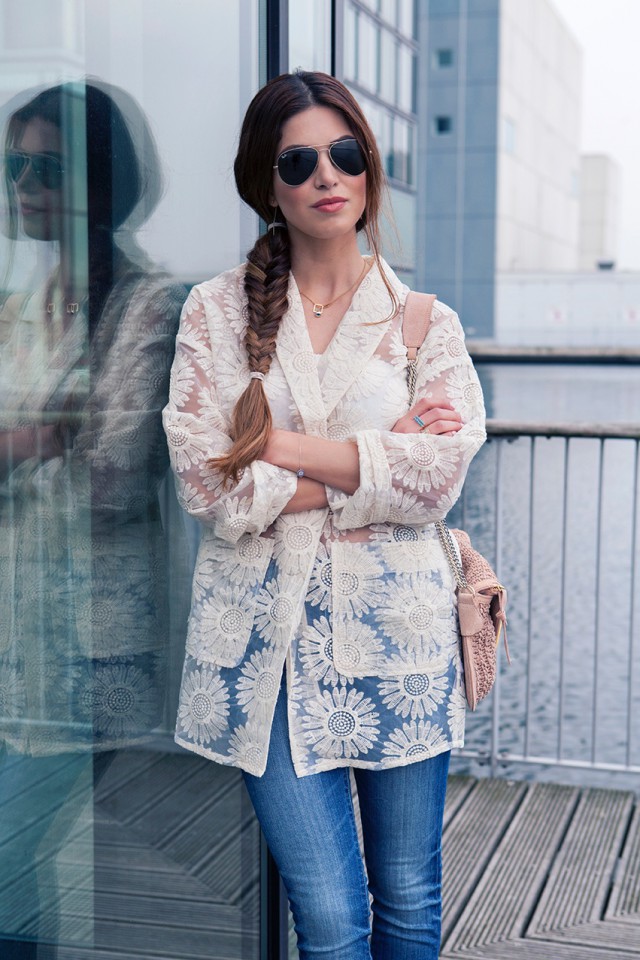 Although the spring temperatures in Amsterdam are on average I personally think that it's way too cold. When I think of spring, I think of warm temperatures, lots of sunshine, and bare legs. But maybe I'm just watching too many Los Angeles photos where the temperatures are freakin' amazing. And maybe I'm just ready for summer.

Although the weather is often dark I try to make something out of it with my outfit and this look really covers spring for me. Because of the sheerness in between the flowers of this neutral blazer and the crop-top underneath it, the outfit gets a flirty twist by showing some skin. For the total nonchalant look I finished it with a braid, a pair of comfortable jeans, and the nude bag and shoes. A

Ps. The Floral Lace jacket is unfortunately sold out but those who viewed my recent shopping list of two weeks ago here on the blog had the opportunity to buy it. For those who are new to my blog: usually when I have a shopping splurge I try to share the items with you guys asap. The reason is that it can take a while before I'm showing the total look on the blog and by then the items can be sold out. Which was the case with the jacket.

Now I'm off for a fun cruise of which I'm unfortunately not allowed to tell more about it. But I think you're gonna love it. Make sure to keep up with my social pages for another sneek peak.
I was wearing
Floral lace Jacket
Skinny Jeans
White Top (underneath the Jacket)
Nude Sandals
Zara Bag
Essie Professional nail polish - No baggage please