Summer has almost come to an end, but that doesn't stop me from wearing my favourite type of shoes: sneakers. I wear them during every season and probably with every clothing ensemble. But also Fashion week is coming up, and I always feel like a comfortable yet chic pair of sneakers, does the trick for the long days! ZCD Montréal sneakers portray the perfect balance between comfort and trend.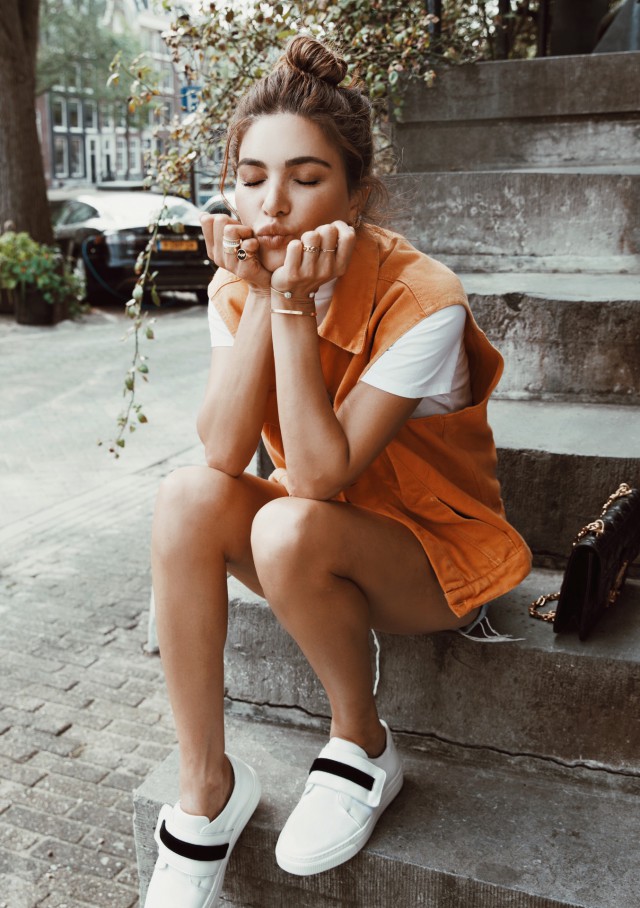 I am a real city-girl and always on the lookout for the perfect shoe. The perfect shoe to me is cool-looking, versatile and comfortable. My personal style has shifted from wearing mostly heeled shoes, to preferring sneakers. You can never go wrong, by pairing your outfit with a classic white sneaker. It is no longer a trend, but the sneaker has become an iconic look, that is here to stay. The ZCD Montréal style has a little twist. For example, the black element that stands out against the white leather, as I am wearing in the pictures.
Naming their sneaker collections after famous Formula 1 drivers as Hamilton, Schumy and Max, ZCD Montréal combines the worlds of racing and fashion to create the essential sneaker. What I love, is that the sneaker designs are simplistic, though very striking by the use of metallic colored leather, snakeskin prints or suede fabric: a real statement and addition to my look! The looks can transition from the race track to the runway.
The use of the finest Italian leather and best quality shows and feels when wearing a pair of the ZCD sneakers. There are so many occasions I can wear these sneakers; when running errands in the city, walking and playing outside with Mosey, going out for dinner or when attending an event. They boost your outfit when worn with a casual, rough look. But can also be a real eye catcher when combined with fancy attire, an addition of sneakers to an elegant dress or skirt, makes the look very playful.