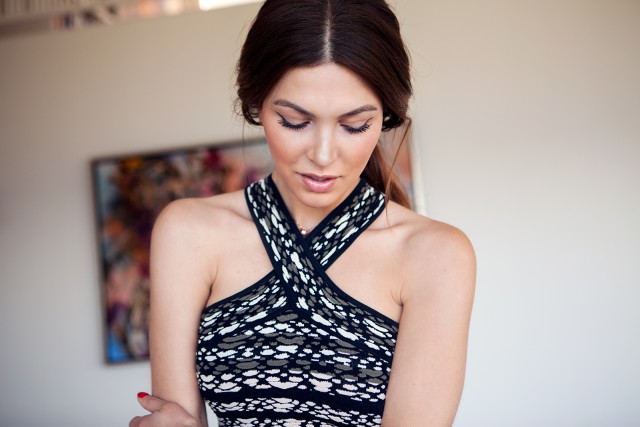 This blogpost is in collaboration with Lord & Taylor.
A happy Monday to all of you all over the world! We returned home from Milan right before the weekend after a fully scheduled week of meetings and shoots for new projects. I shared a bit of the experience on Instagram and Snapchat, but I will be sharing more with you very soon! As all of you know by now I love going back to Milan because almost everything about this Italian city feels like home to me. There's only one small thing that detracts from the home-like experience and that is that we've never stayed in the same hotel twice. Constantly sleeping in a new room each time we're in the city makes it a bit tricky to feel completely settled the way you'd feel in your own place, so maybe that's something I'll have to work on! Nothing wrong with a little consistency A Right now, I'm happy to be catching up on sleep in my own bed again and getting to spend some much needed time with my loved ones. Besides our trip to Milan last week, I was also excited to see my new interview with The Coveteur go up online. I would say that without a doubt it's one of the best times I've ever had shooting and it was kind of exhilarating getting to show a completely different side of me. From the pictures to the in-depth interview, I hope you guys love it as much as I do—I'm interested to hear what you all think about it A
Before coming to Milan, I made plans to spend the night with friends and had so much fun dressing up for an evening out on the town. This playful outfit by Torn by Ronny Kobo from Lord & Taylor's concept shop, Brand Assembly, definitely caught my eye the first time I saw it. The intricate print on this crisscrossed strap top, paired with a matching high-waisted skirt, is the perfect statement outfit—not much accessorizing needed! One thing I like most about this crop-top is how quirky and unique the cut is, while still maintaining an elegant femininity, especially when paired with the matching skirt. There is a nice mixture of sensuality and sophistication, which is great for an evening with friends when I'm feeling a little more lively. It's not constricting, which makes it easy to move in, and the print is super playful—don't be afraid to let loose every now and then!