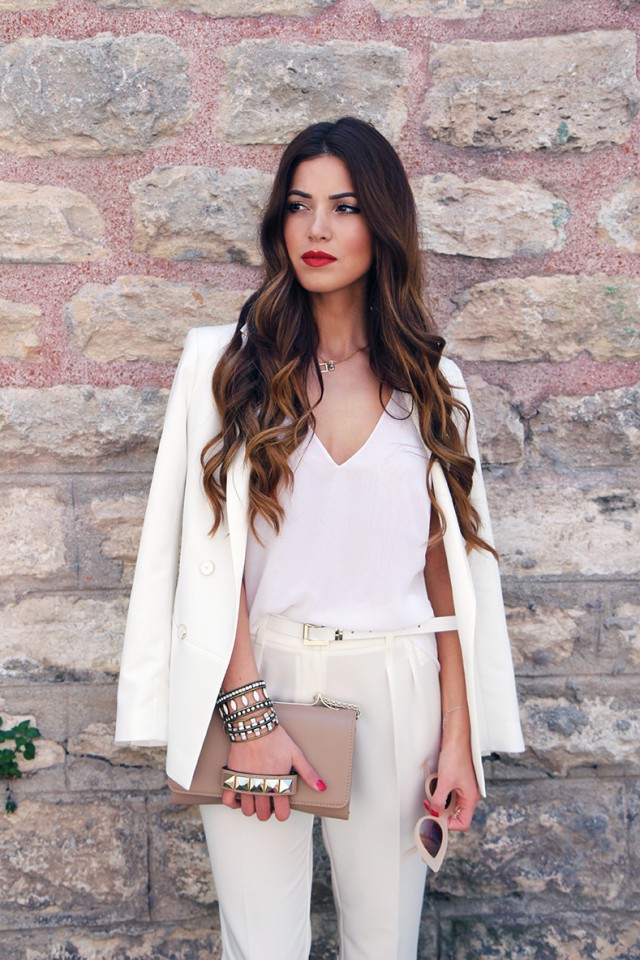 After playing tourist in my comfortable attire for the first and second day I decided it was time for a night out in one of the special looks I brought with me to Istanbul. When packing my bags I usually always figure out every outfit prior to the trip so I don't bring too much clothing. Also, the last thing I wanted to do in Istanbul is spending time figuring out what to wear and experiencing those 'why did I forget to bring that with me' moments. A

So next to those comfy outfits I of course also bring a few looks with me that are appropriate for an elegant dinner. As you've read in my 'boyfriend trend' post a few days ago, the pant suit is definitely one to have hanging in your closet. And in my opinion when it's completely white it makes even more of a statement. A

I found this pant suit at Taranko, a brand I recently discovered and already am an incredibly fan of. The reason? Not only the fit is perfect and seems tailored for my body, the quality is amazing and blew me away. In my opinion when it comes to a pant suit you have to be willing to invest in one you can come back to over and over again. Since the pants suit is relatively simple the fit and quality are key in making it look amazing. Adding a red lip and my Valentino bag and heels just finishes off this look and makes it great for a night on the town.

Another reason for loving this pant suit is that you can wear them separately. I've already worn the blazer with a jeans for a more casual look. Wearing the pants with a cute strapped silky top gives it a complete different vibe.

What do you think?
I was wearing
Taranko Blazer
Taranko Pants
Valentino Heels
Valentino Bag
Sunglasses
Taranko Belt
Bobbi Brown Red Lipstick