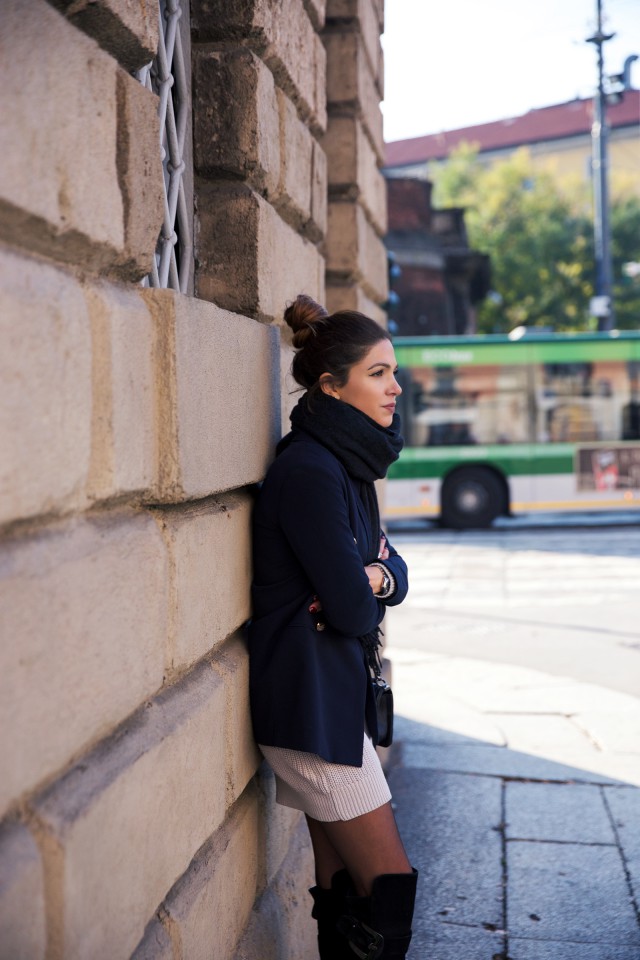 To me, layering is comparable to a cake recipe (a treat we really love at the office, lol). Let's start off with the crust: I wore a dress-length knitted sweater with a sweater from Maurits on top of that (I can't help stealing some of his clothes every once in a while, I just adore boyfriend items!). Throwing on a chic, sophisticated blazer like this navy one makes it possible to stay warm during these low temperatures, without having to wear a coat or winter jacket. For the pie filling I used a pair of knee high boots, which made that layering effect even stronger. Finishing it off with my can't-go-wrong bag and a top knot, and I'm ready to go! D
Also, I've had these boots for probably five years now! Seventies style knee high boots are making a comeback every few years, so a pair of boots like these really deserve to be on the classic wardrobe essentials-list. Because of that, quality is key.

This look was shot in Milan during our second day. What I love about this city is that the brands we collaborate with are located very close to each other. A completely different world compared to New York, where we hit a car between every meeting as we have to go from SoHo to Upper East Side to TriBeCa. And of course we'll be stuck in traffic almost every time E The fact that all of the Milanese fashion houses are nearby, makes it possible for us to schedule tons of meetings on one day. So a trip to Milan always involves very productive and fun days.
I was wearing
Grey Jumper Dress
Blue Jumper - similar
Blue Blazer - similar
Acne Studios Scarf
Over the Knee Boots - similar here and here
Chanel Boy Bag