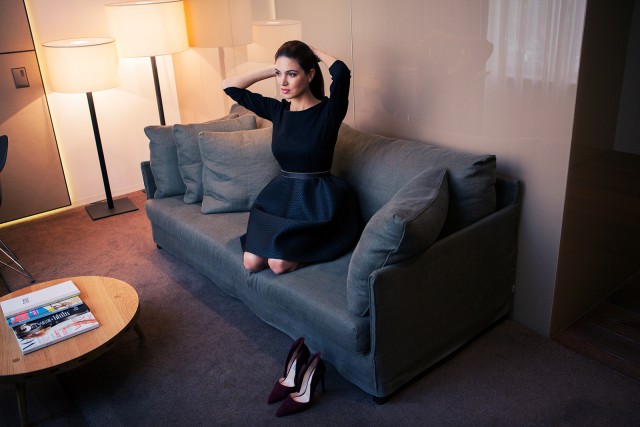 Elegant and graceful, you'll find this beautiful scenery in the heart of our capital city. Museum Square is the place where culture, luxury, and Dutch history meet: a must-visit when you're in Amsterdam. Besides the famous museums and lovely greenery you'll find The Conservatorium Hotel, Amsterdam's leading luxury palace. It was the perfect occasion to shoot the this breathtaking dress right before a dinner with friends and family.

I simply couldn't wait to share this look with you guys as I think these kinds of dresses are a must in your wardrobe. It's one of those dresses that saves me when I'm in a hurry for a lovely dinner or a fun night out where I of course want to feel pretty. I do have to point out that I love my black dresses to have something special, exactly like this one where Taranko used a different fabric for the upper part compared to the lower part of the dress. I felt like a true doll thanks to the belt that accentuated my waist and its tulip-like fit. What do you think?

After spending one week straight at home I can't wait for a few trips that are coming up. Starting with Rome, a city I wanted to visit for such a long time because of its history and architecture. Then it's time to go to Asia for such an exciting project I really can't wait to share. It's going to be a magical time.
I was wearing
Taranko Dress
Prada Heels
Kiko Lipgloss