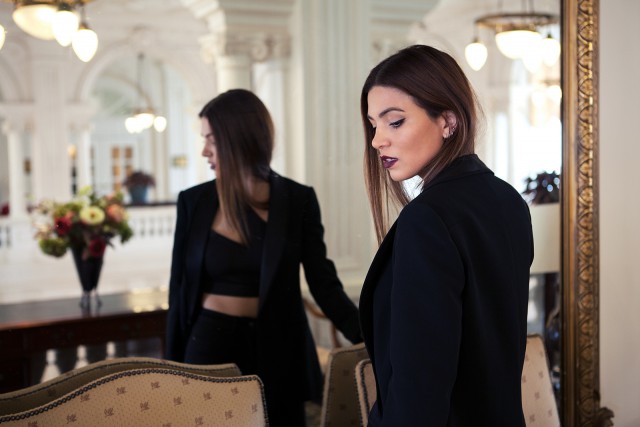 Although I'm surrounded by Miami's beauty (think: sunshine, the beach, and beautiful views), in my mind I'm already preparing for Christmas! Have you already planned your outfits for the party season? I'm really looking forward to the holidays, so I'm trying out some evening looks lately. This one is actually pretty simple and classic, but really special at the same time.

The black top, which is very different from any other cropped tops: the cut outs give it a seductive feel, and the strap gives the top that 'one-shoulder' effect. Combining this with a black blazer and a pair of trousers creates a female version of the iconic man suit. I think sporting this look with a black pencil skirt instead would be very elegant as well, providing that it's an over the knee skirt.

In my opinion, this look is definitely Christmas dinner approved. I personally would wear this look including the jacket to a family dinner and later on, when we meet our friends for a night out, I would take the blazer off. Talking about adapting to the occasion, right?

Soon you'll be able to get inspired by a few more Christmas related posts: how to style it off with some on-trend accessories and a very festive make-up look. Get excited!
I was wearing
Karen Millen Blazer (in store)
Silvana Crop Top
High Waist Jeans
Shoe Cult Leather Bootie