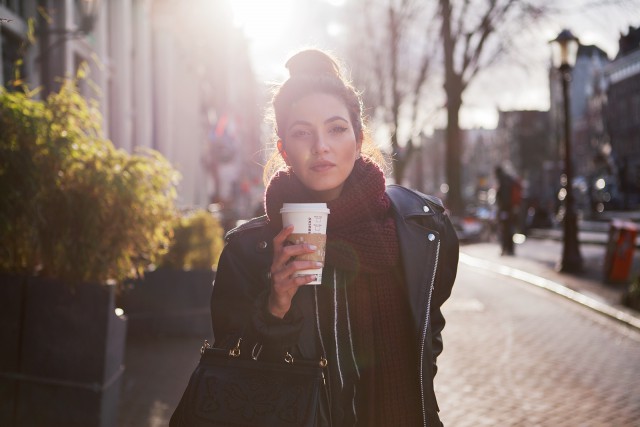 I think it's important to find the small things in life that make you happy each day. Whether it's enjoying a hot coffee or a good laugh with friends, remember to slow down every now and again to really take pleasure in the simple things. I know it can be hard to not get caught up in your hectic schedule, but it means neglecting the beauty that surrounds us on a daily basis (unless you do acknowledge it, then that's great!). But let's be honest, we're all guilty of it. When was the last time you really looked at the things around you? I feel like I'm just all over the place sometimes, but there is nothing better than getting back to basics and reconnecting with my town: Amsterdam.
I love the atmosphere of this city. The energy is contagious and there is never a dull moment living here. Kind of like New York City, there are so many things to do, places to eat, shops to explore. It's endless! Even on a busy day I couldn't ignore the beautiful weather and radiant sunshine. I thought this leather jacket with the fringing on the sleeve was the perfect complement to this bright winter day— definitely a great piece for an off-duty look in this cool atmosphere.

Pairing the jacket with leather accessories, from the tote to the belt, enhanced the rocker vibe of the ensemble. I even played with my makeup a bit that day, opting for thick blue eyeliner instead of my traditional brown or black. It adds a touch more fun to the look, don't you think? The ripped jeans also gives a bit more of a laid-back feel that is suitable to exploring, but what I love most are these burgundy ankle boots (found on sale: score!) that are accented with thin straps. They are so comfortable and the rich color is quite elegant, really grabbing your attention without being obnoxious. Matching it with a chunky knit scarf ties the look together, and makes it more relaxed and suitable for a weekend with friends. When you switch up the pants this look is great for the office too! So next time you're on the run don't forget to stop and enjoy the what's around you. Sunshine, the people, and Amsterdam, I couldn't be happier!