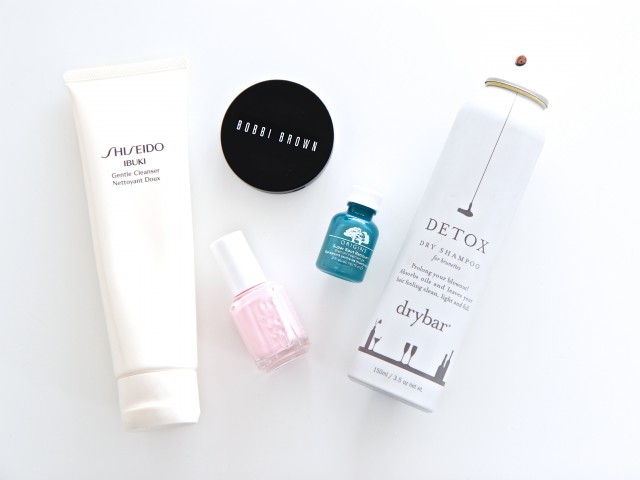 I've always been a big fan of trying out new beauty products and discovering new ones that I implement in my beauty routine. Overall, I think that most of the big players in the beauty market have proven that they don't only claim that their products are working but now I can really see the difference in for instance my skin care. I've discovered a few new beauty items that have helped my skin and hair tremendously or made my make-up routine much more fun.

Shiseido Ibuki Gentle Cleanser
Starting off with my absolute favourite, one of which I truly believe has improved my skin a lot in the past months. I've actually tried out the biggest parts of the Ibuki by Shiseido collection, and although I really enjoyed most of them this cleanser really stood out to me. I did a little research on what Ibuki means in Japanese (Yes I like to do this for fun, lol!) and it refers to your inner power. And that's exactly how I feel about this cleanser. A

First of all I've came to discover that although my skin is dry or oily, gentle cleaners are the way to go. After all, we have to be gentle with our skin and especially the skin of our face since it's much thinner than the skin of the rest of our body. Secondly I think it's great that I only need the smallest amount to lather up perfectly and cleanse my entire face. So I have the feeling that this product will last me for a very long time. And more importantly I feel that although I'm not able to sleep 7 till 8 hours every night (almost never actually) this cleanser really takes care of my skin by removing all impurities without disturbing the hydration of my skin.



So if you're searching for a great gentle cleanser for all skin types I really recommend checking this out by Shiseido.

Bobbi Brown - Pot rouge in 'Rose' 10
I've been applying this creme blush to my cheeks everyday for the last month. It's a soft mauve-y pink colour and gives a subtle and healthy flush of colour to my face. A tiny bit goes a long way and I absolutely love the fact that you can use this for not only your cheeks but also for your lips. Very handy to bring around with you in your pretty little bag. A


Origins - Super Spot Remover
Another miracle for my skin. When I spot a pimple I apply this super spot remover on a clean skin before going to bed and boom the pimple almost completely disappears the day after. A I have to say that you have to use this product as soon as you discover your little impurity for the best and fastest result.

Drybar - Detox Dry Shampoo
This has made my life a lot more easier. It's a dry shampoo made for brunettes since it doesn't leave a white residue behind. My second and sometimes third hair day feels and looks extremely great as if I've just washed my hair.

Essie - No baggage please
Which blog, website or magazine does not scream that it's all about pink shades this season: powder pink, pale pink, bright pink, pastel pink, can you finish this list? I wanted a pretty pink for my nails and this colour is perfect. It's a pastel pink and it's gorgeous to combine with white and nude coloured outfits. Ps. it's from their professional application collection which is only sold in some nail salons as far as I know.