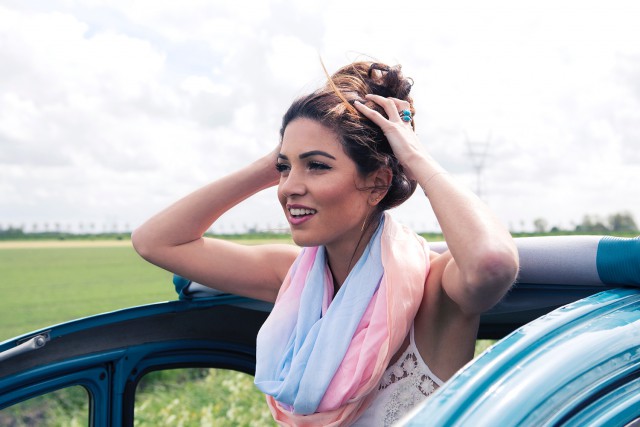 As most of you've noticed already we spent a lot of time on the road visiting one meeting to the other. So next to my food-on-the-go (usually a banana, nuts, and water) I always bring some beauty-on-the-go with me for a little touch-up.
Several of you guys were curious about these beauty items I always bring with me while touring around. So now I'll give you guys a look into my bag and share my favourite on-the-run beauty-essentials. A

As you can see, most of the time I'm taking a little beauty-bag with me so that I'm always able to give a fresh impression at the meetings. I'm starting with make-up and then I'll discuss a few skin care products.

Make-Up
I always have 4 make-up products with me. I start with one of my all-time favourite concealers by Estee Lauder, double wear (02). This instantly brightens up my under eye area and gives me a more awakened look. Very important after those 4 hours of sleep nights and therefore definitely an essential to me. I also love that I don't have to use my hands in order to get the product out, so it's hygienic which is a big bonus!

Since it's getting warmer everyday my skin starts to get a little oilier and I use Mac's Mineralize skin finish natural (medium dark) to control the oil on my face. It's very lightweight yet incredibly effective.

My Chanel eyebrow pencil (30) is key. I really believe that your eyebrows make your face and so I deal with good and bad eyebrow days more compared to a bad hair day, lol! The Dior addict Gloss (772) is my absolute new favourite. The bright pink colour screams summer and makes every look a little more special.

Skin Care & Other Products
The Chanel Les Beiges Healthy Glow Fluid to me is a combination of a skin care and make-up product. But the main reason I always carry this around in my bag is that it contains SPF. Although it's not a very high protection it's great to touch up during the day while it also evens out the skin tone and gives your skin that perfect glow.

Other products I also never forget to bring with me is a deodorant, of course in a travel size container, my anti-bacterial hand gel by Bath & BodyWorks which I got in New York a few months back, and my Chloe perfume which I believe to be the cutest bottle especially in this mini size!