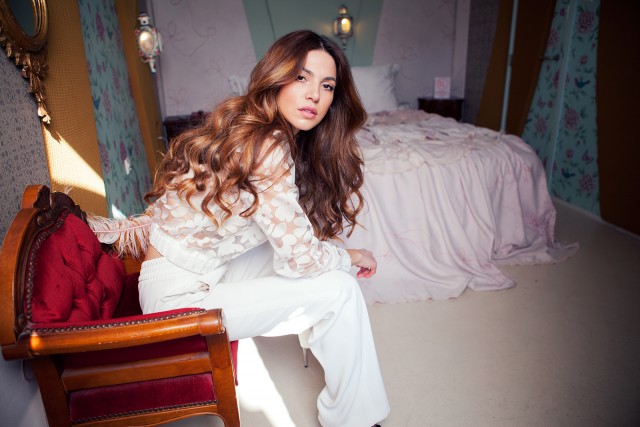 It feels so good to be writing this from the office at home. I was so happy to be able to spend the weekend with my family (my niece is just the cutest!) and get back into a little routine after a hectic period. But as always, my tummy starts filling up with butterflies anticipating the new adventures on the horizon. I'll be going to Spain at the end of this week for a couple days to shoot a special project (more about that soon!) and then in a few weeks I'm off to LA A So this home routine will be short lived, but I will definitely make the most of it.
This time of year I feel so eager for warmer weather and just want to be able to walk around outside in a t-shirt and though I love wearing darker colors in the spring and summer, this transition has me in the mood for lighter shades all around! Sometimes it's a good idea to ditch the dark and make a more refreshing statement with a different monochromatic look. Choosing all white, I really just wanted to create a clean, bright and relaxed look that was a little daring but still elegant. One thing that is great about this trend is that it can transition easily from season to season, so don't be afraid to white out during the winter as well! Now I guess the real question is, how will you wear your all white?
Spring and florals go hand-in-hand, but how do you make something so universal a little bit more personal? When wearing all white, I always think it's a good idea to mix textures to keep your look from becoming too flat and one dimensional. I am kind of obsessed with this sheer floral vest from Taranko because it is such a beautifully feminine, well tailored garment that really highlights the romantic essence of spring. There is a very high quality to the fabric and cut of the shirt, and I love that this vest is a little see-through too because it adds a touch of sensuality to this the look. You can wear a nude bra or tank top underneath and even pair it with jeans for a more casual vibe. I also like how these smooth, flared white trousers complement the shirt. By avoiding another pattern, the subtle simplicity of the look is enhanced. To make the look a little more special, I wore this great multicolored pale pink and white scarf that matches the outfit perfectly.