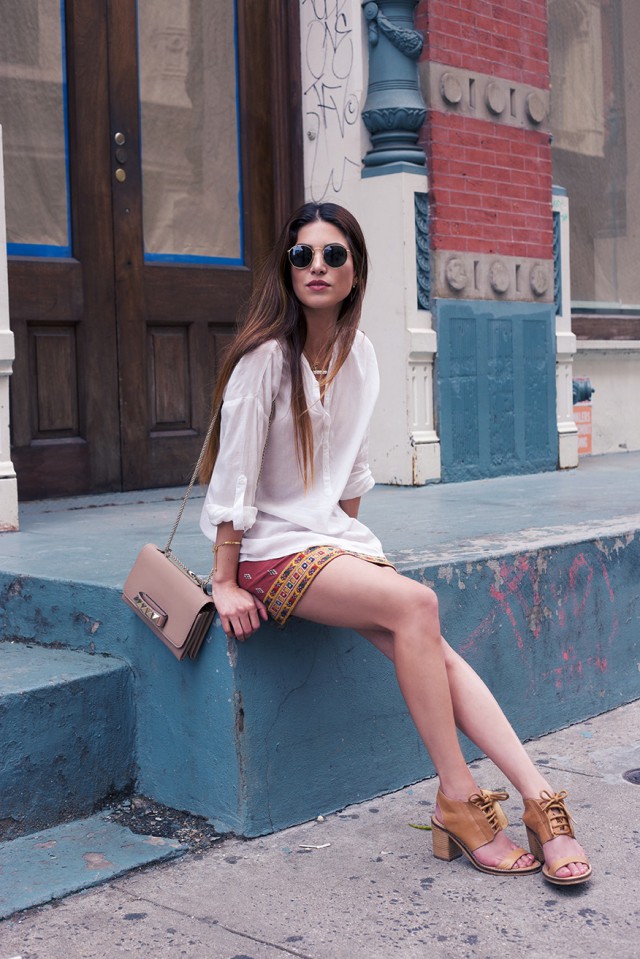 Oh my, it's almost time to go home. Such a pity to leave but on the other hand I can't wait to hug and kiss my little niece to pieces again. These ten days living as a Manhattan's citizen was such a blast. Although on the one hand it felt like we spent four weeks here and doing all these amazing projects and meetings, on the other hand it felt like five days. Time flies when you're having fun right? But we're already planning a new trip to the city, since there are so many big project that are coming up and honestly I can't even believe how fast things are going.

On our first day in New York I wanted to enforce some sun, since it was kind of cloudy when we landed. So for this day look I put on a sunny outfit with bare legs, to enforce the sun to come out (and it worked, lol). I styled it off with a very summery looking printed skirt, with bohemian details on the hems of the skirt, and a comfy white boyfriend blouse. I think this outfit is quite simple and casual looking, but still has that flirty sparks because of the skin showing and loose fitted items and the detailing. Perfect for a relaxed midday of walking around Soho, don't you think? For the finishing touch I wanted to take the dip-dye trend to another level. So I mixed and matched my two toned hair colour into my accessories; the light brown or nude you can spot at the bag and shoes, and the dark brown at my Ray Ban and a part of the skirt.

Ps: today my home country (the Netherlands) is playing another match during the world cup. Last time during the first match we won 5-1 against Spain, and I'm incredibly proud; what a match it was! I still love you as well Spain ;). Today the Dutchies have to play against Australia. So Down Under, what do you guys think it will be today?
I was wearing:

Printed Skirt (similar)
Boyfriend Blouse (similar)
Stone Bar Necklace
Ray Ban Round Sunglasses
Valentino Va Va Voom Bag
Lace-Up Sandals