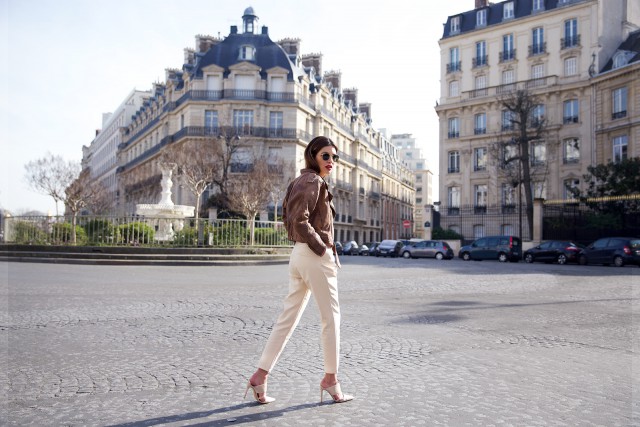 With fashion month ending, I found it a little bit sad having to leave Paris, but it's always nice to get back to a routine at home after traveling so much. Even though it's nice to be home, I kind of miss our hotel in Paris. I often look forward to the comfort of my own bed, but the Hotel Plaza Athénée was such a dream and I felt so lucky and spoiled I didn't want to leave! How amazing is it to wake up and see the Eiffel Tower from your bedroom window every morning you wake-up? Then walk into the living room and see it again from that window as well! What a luxury. I felt like I momentarily lived inside of a postcard—just picture perfect. It also didn't hurt that the hotel was located in a beautiful area that made choosing a shooting location convenient!
It was great to get a little taste of spring while we were away. With snow and cold winds out of the picture and the sun shining, I wanted to wear something a little lighter that reflected the environment and my happy mood. What I like about this look is that it's a nice combination of completely neutral shades. The soft colors are warm and really fit the romantic setting perfectly, don't you think? I like that even though the colors are casual, the high-waisted belt on the pants and the leather jacket give it a bit more edge. To make it a little more special, I paired the pale shades with a bold red lip and vintage round Ray Ban sunglasses. Adding two classic elements gives it a more timeless feel that is still unique and versatile.

Along with the pieces that are widely available in stores, I've also incorporated a gorgeous vintage item. Lately I've been really enjoying thrift shopping because I like combining something old with something new and I love finding a good vintage piece that was once loved by someone else. Clothing always has a story! Take this brown, worn-in leather jacket that I found in a thrift shop. When I saw it I knew I had to have it. The fabric, the cut, the color, the feel, it was all so right! Wearing it makes me feel so comfortable and now I can create my own unique story with it. Even though this type of shopping can be a bit time consuming, it's always worth it in the end when you find that one-of-a-kind something you didn't even know you needed. Now go get thrifty!