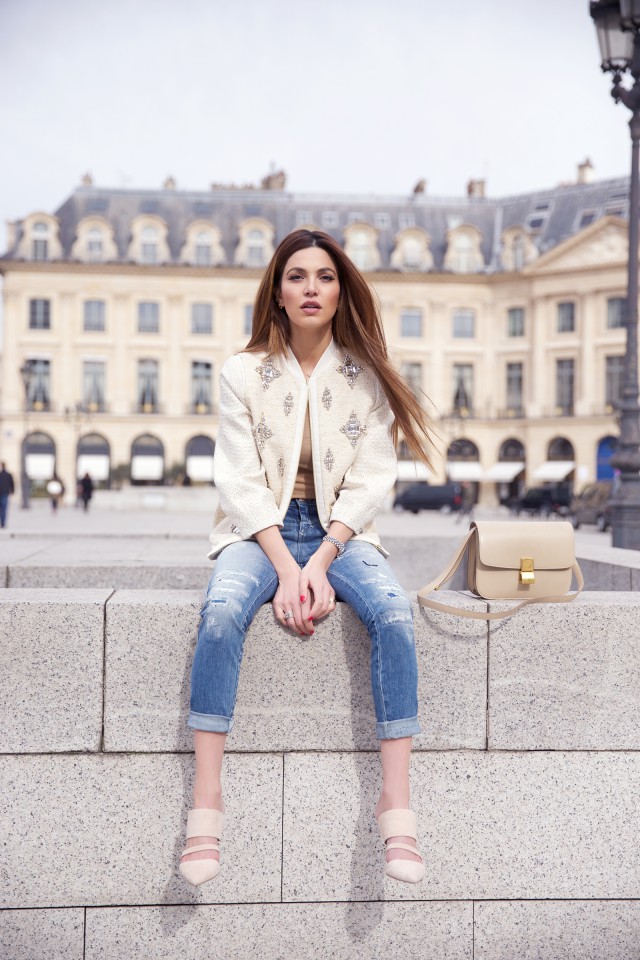 I still can't believe how beautiful the weather was in Paris. With the sun shining, I was so happy to be there and it made our visit that much more enjoyable. I love wandering the streets because every location feels like a picture perfect place—I could have spent the whole day taking pictures! Other than the exquisite architecture and vibrant energy, one of the best parts is seeing what the locals are wearing because Parisian men and women give off such a cool sophisticated vibe that seems effortless. There is a reason this is one of the fashion capitals of the world! So when dressing for a day out in the city, I really wanted to embody the liveliness of Paris and translate it into my look.
To me, style is a way of expressing a combination of individualism and charisma, and there is no shortage of this in Paris. Combining simple staples pieces with some special items is one of my favorite things to do because it really makes my overall look feel more personal. I like the idea of mixing the ease of a classic pair of denims with calm colors and a statement jacket. A good pair of jeans is an essential piece of clothing to have because they can be altered for any occasion and be worn with almost everything! I recently discovered this brand called Closed, who are known primarily for their high-end denim, so it's safe to say that their jeans are definitely a denim lovers dream! The combination of soothing neutral shades with this pair of cropped worker destroyed jeans from Closed gives off a playful, yet still elegant, vibe. I think that the fit, cut and color of these pants are perfect for the transition from winter to spring. The light and loose fabric, along with the scattered tears, gives off a warm vintage feeling that I love. It's nice to be able to move without being too confined by layers! The cuffed ankles gives off a more casual appeal, while the high waist refines the overall look, don't you think?
The right pair of jeans never fails to make you feel like the best version of you, so whether you dress them up or down is up to you and it's why I like these pants so much—comfortable versatility is everything! I also love the little embellishments on the front of the jacket. They add a nice special touch to it, especially when the light hits them. This look is perfect for any occasion, whether it is a day at the office or exploring the streets of a new city. How do you express your inner Parisian?