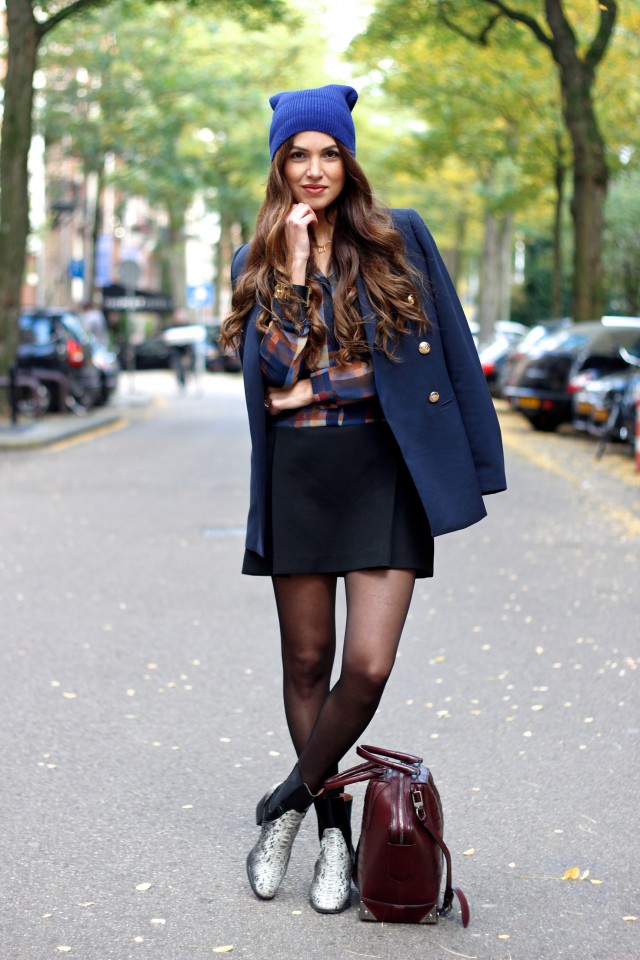 Hi Everyone! Today I woke up to a stormy weather. I honestly can't remember the last time it stormed liked this and it's pretty scary looking outside. Luckily I'm able to work from home this morning but this afternoon I have a meeting so I need to leave my cozy home.

Anyway here are the photos of the look I was wearing Saturday. Saturday morning was quiet exciting since for the first time I got the opportunity to tell how my blogger adventure started at the Grazia Blogger Masterclass. Honestly, I was so nervous and afraid it was going to go completely wrong. Luckily everything went just great and I got so many positive feedback. I really enjoyed interacting with the lovely ladies and it gave me so much positive energy. Really something I'm looking forward to doing more often! A

Now concerning the outfit. I wanted to wear something sophisticated yet comfortable, so I opted for a combination dress you've probably seen me wear once before HERE. This time though, I've chosen to combine it with a beautiful blue beanie, a blazer I'm absolutely in love with, and of course my new snake printed boots!

Also From now on when I'm announcing a new look on Instagram I will add more information concerning the clothing items in the look and weather they are still available for you to purchase. So for this look there are 6 items and all 6 items are still available to you. So on Instagram I will add '6/6' meaning 6 out of 6 items are still available for you to purchase. This is probably an exception so I think from now on you will see use more '4/6' meaning 4 out of 6 items are still available. What do you think of this idea?
I was wearing
Zara Combination Dress (In stores now)
Navy Blue Blazer
Blue Beanie
Jeffrey Campbell Boots
Alexander Wang Emile Bag
Hermes Collier de Chien Cuff