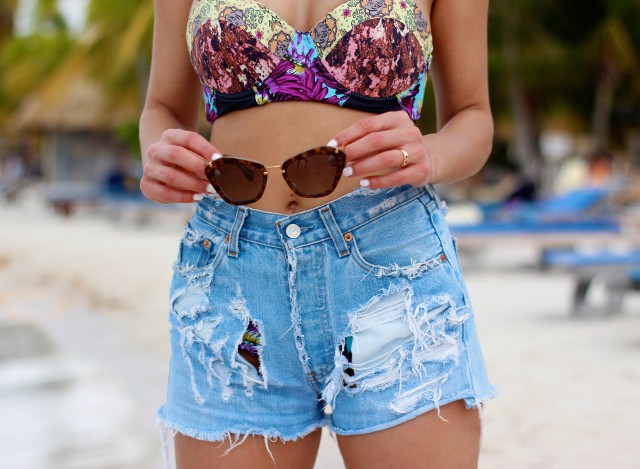 Good morning from Curacao sweeties. We just had a lovely breakfast near the beach and now we're ready to explore this gorgeous island. So we wanted to rent a car for today, turns out Maurits and I both forgot to bring our drivers license with us! You can imagine that I was having a little shitty moment since exploring the island by car is a total must. We still hope to arrange something so we could explore and of course share all the beautiful spots in Curacao. A

Yesterday was our first day and we wanted to relax a bit at the beach of the hotel we're staying at. We felt like we needed it after the 10 hours flight. After our arrival the first thing that we noticed is how relax and happy the local people were: they all take the time to help others, they're all so nice, they smile, and above all they look so much more relax compared to the people back home (no offence) and it includes me as well. It seems like they don't worry too much but instead enjoy. I mean who wouldn't on such a beautiful island right? But I think it's the whole mentality and I have to say I love it. A It made me realise that I do everything so fast and instead I should enjoy the moment more often.

Yesterday morning the clouds took over the island but eventually the sun came through. I was wearing a bright bikini with the cutest strap detailing on the back. Just perfect for our first day here. Added my favourite Levi's shorts that fits every single outfit (yes I'll wear it on every vacation), and a crochet pink top. After a dive in the water my hair looked ready for shooting some photos as well. I just love beach hair!

Also I'm announcing the giveaway winner of the most beautiful spring/summer sandals from Valentino. First I like to mention that I've red every single comment (and yes I'm serious). To read how you would combine the sandals is my favorite thing to do next to a cup of thee and a few sweets. Anyway the winner is: Fleurde, Congratulations! you responded on januari 18th and I will send you an e-mail right away. Please make sure to respond asap.
I was wearing
Nastygal Crochet Top
Swimwear World Bikini
Miu Miu Sunglasses
Levi's Shorts