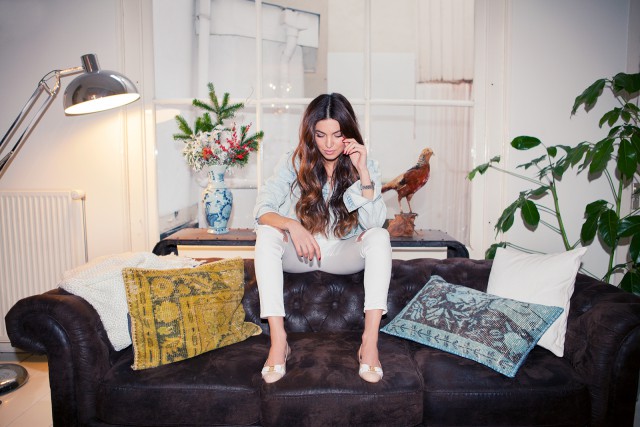 This blogpost is in collaboration with Salvatore Ferragamo.
Hi guys. Here an update from Dubai. As you most likely have seen on Instagram already we're having a great time in the Emirates; discovering Miracle Garden, the beaches, and of course Burj Khalifa (the highest building in the world). I can't wait to show you more on the blog! But first I wanted to talk to you about my own customized Salvatore Ferragamo shoes. Remember the Instagram picture where I shared that I was ordering it as a present for myself just before Christmas?

As you might already know Ferragamo is known for the iconic Vara shoe, which was introduced in 1978. This mid-heel shoe features the recognizable grosgrain bow and a gold plague with the Ferragamo logo. In 2007 the Italian fashion house launched ballerina flats called Varina, based on their iconic shoes, which became a huge success as well. I've always been a fan of them as I think these are the most elegant and sophisticated flats that are incredibly versatile at the same time. I especially love how you're able to combine these flats in several ways, for example with a complete denim outfit; a fresh look that's perfect for this spring.

When I wanted to make an order I discovered that you can customize your own Ferragamo shoes, which of course I had to give it a try! I've chosen the neutral 'bisque' shade and a white colored bow. For my European readers I've got some great news: until the end of January you'll be able to put together your own Ferragamo shoes as well. You can either go all out with bright colors to suit a specific outfit, or choose more neutral tones like I did so that your ballerina flats can go with almost every look. Click here to customize your own and have fun creating your personal Ferragamo shoes!
I was wearing:
Costumized Ferragamo Varina Shoes - similar