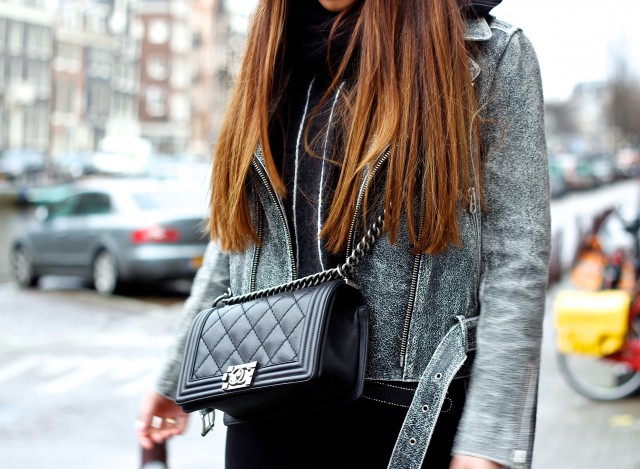 Last night we've arrived home after our two-day trip to Berlin. Since there were lots of impressions, emotions and I only slept several hours during two nights it feels like I've been in Berlin for a week! A I was incredibly happy en thankful to have won the award for "Most Promising Fashion Blogger" at the Stylight Fashion blogger awards. Tomorrow you can expect an extensive post with all the photos and my thoughts on it. Can't wait to show you!

For now I wanted to reveal one of my all time favorite looks! The two main items of the look that made it so comfortable, chic, and with an edge are the Miu Miu slip-ons and the crackled leather Sandro jacket. Now you know I asked you on my social pages whether to choose the black or white slip-ons. I experienced a small personal dilemma and I didn't want to get them both. I could totally see myself sporting the white ones in Curacao (in one week, YAY) with a complete denim look and tanned legs but I know I would enjoy the black ones more often. And I'm actually glad I opted for these. They are super comfortable, and I'm obsessed with the metal toe and white sole.

The motorcycle jacket is another Item that make such a statement in the look mainly because of the crackled leather and it's fit. It's easy to combine due to its neutral color and it spices up any outfit instantly!

I also mentioned in my last post that I wanted to share a pair of jeans that fits perfectly. I personally struggle a lot when it comes to jeans. The reason for that probably is that I'm little high-demanding when it comes to a perfect pair of jeans that fits perfectly around my legs, my waist and of course has the right height. And once I've found those I want to get them in every available color. Last week while shopping at River Island I found one of these treasures and I couldn't wait to share it with you. On the label it stated that they are made out of 4 way stretch. I don't exaclty know what 4 way stretch entails exactly but it sounds like a lot of stretch and it seems to fit perfectly, so I say YES to 4-way stretch. Budget-wise it's such a great deal as well so I really recommend checking it out if you are always on the search for the perfect pair of jeans like me! And yes, I got them in black and gray. Unfortunately blue was sold out in my size.
I was wearing
Sandro Jacket
Bijenkorf (Department Store in Amsterdam) beanie
River Island Jeans
Miu Miu Slip-ons (via Shoebaloo)
Mango Sweater
Chanel Boy Bag