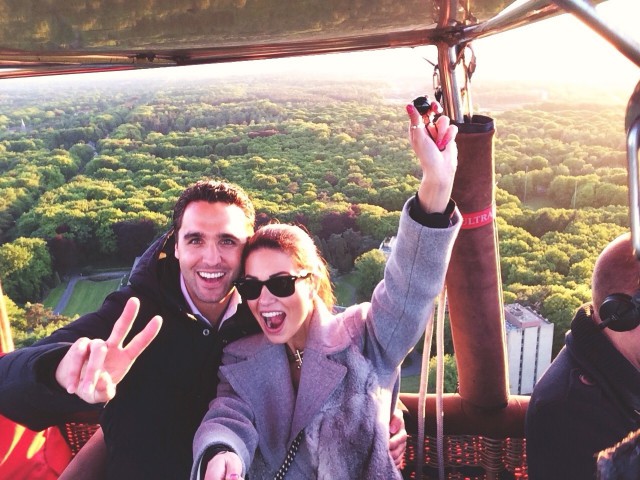 This blogpost is in collaboration with Vodafone.
Those of you who follow me around on my social (diary) pages know that a couple of days ago I had such an amazing night: I went on a balloon flight for the first time! Something I honestly didn't expect I was going to do until I arrived at the Vodafone event. For the ones who know that I'm not an Indiana Jones type of girl, aren't you super proud of me? I'm really happy I faced my fears, since it was an experience I would have never wanted to miss.

And since this experience I've been thinking more and more about first times, and the memories and feelings I can awake along with that. Because really, the adrenaline-rush and nervosity before, and the special memorable moments after, is worth it all! There are so many more things I've never done before, that I would love to do. Also these challenges I want to face to keep push my boundaries and learn.

Last two pictures by Croyable

New steps to take: 2014 - 2015

On the last day of 2013 I devoted an entire article to all the firsts I've experienced in 2013, from starting my blog, to winning the Marie Claire award. Today I wanted to devote an article on the new first times that I would love to experience hopefully within the coming two years.

- First of all, since I'm in the daredevil mood right now ;), skydiving is the next big step. I know it's for real adventure seekers, and above all I'm super afraid to do it, but really I think it will be 'breath-taking' fantastic!

Of course as a person with a great wanderlust, the travels can not be missed on this list:

-I would love to travel around Asia, especially through Japan and Thailand. As the Asian market is becoming bigger and bigger, this part of the world interested me for quite some time now, and I want to see and experience the culture through my own eyes.

-A road trip from the east to the west of the United States would be really awesome. Since my boyfriend and I are experts now in touring around from meetings to meetings in Europe, this would be even more exciting with those long roads and beautiful surroundings in the States. A few weeks ago we already did a shooting based on a road trip with a cute blue old-school car, which I'll share on the blog tomorrow. So now you'll get my determination behind the shoot ;)

-I also want to fulfil my dad's dream: working with bees in L.A. He's the most passionate bee-keeper, and since it's the perfect climate for it over there, it would be amazing to go sometime together. He always has helped me and stood behind me to fulfil my dreams and becoming the entrepreneur as I am today. So I really want to do something back.

Career-wise, it would really be amazing to achieve the following things too:

-I have the desire to create a capsule collection with a fashion brand. I'm already taking a few steps into this process, so stay tuned sweeties!

-What better way to express your style than start your own product line? I always dreamed about designing my own items. It would be so cool to make you girls happy by wearing my personalized clothes or beauty products. As you know, sharing is caring!

-As a finishing touch of my blogging-career I feel the urge to help others with my experiences. So I would like to write a book in the future to tell my story and inspire young women to do what they love and start their own business.

Finally, something a little bit more dramatic, lol:

-When I heard about the Residence-cabin of the Etihad plane, I immediately wanted to try it out. This plane is just like a luxurious hotel: You will have your own living room, double bed, shower and a personal butler who will service you throughout the whole flight. I know it's a little too much and perhaps dramatic but I definitely would want to experience it.

Are you ready
Are you ready to face your fears and experience a lot of 'first times'? Trying out new things keeps your life exciting and interesting. Only this way one is able to explore, grow, move forwards and evolve. You'll feel nervous for a moment, but remember you feel blessed for a lifetime. Hopefully I inspired and encourage you guys to take that first step into a new experience. Tell me, what are your ambitions and goals?

Thanks to Vodafone for this lifetime memory! Ps. Vodafone is allowing 10 more people to make their dreams/firsts come true by CLICKING HERE.