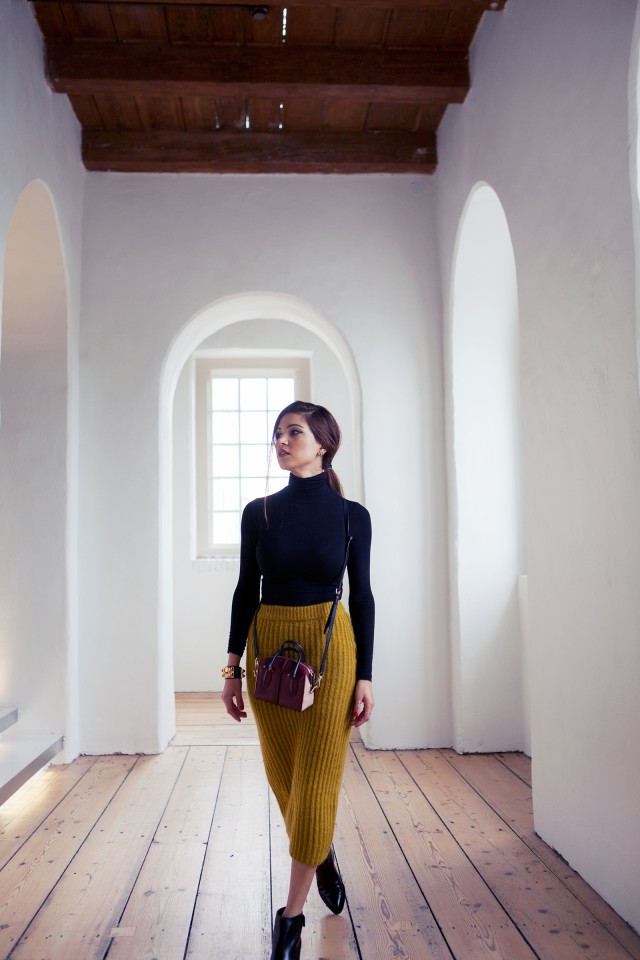 White walls, wooden floors, and over 500 years of maritime history. We were at this beautiful location called National Maritime Museum in Amsterdam, which is all about the way the sea has influenced the Dutch culture. The lighting and atmosphere created a perfect setting to shoot this look. I loved the staircases made out of bricks, the arches, and the different spaces around the building, which made me fantasise about the way Dutch people lived in the Golden Age.

That day I was wearing a skirt that reminded me of the 17th Century colour palette: lots of paintings that were made in the Golden Age included rich colours like royal blue, ocher, and bright red. I paired my woolen ocher skirt with a simple turtleneck and black ankle boots. The studded bracelet and cross body bag from Tod's gave it a modern feel, thanks to the combination of burgundy and light pink. I've changed up my hair a little by sporting a side-parted low pony-tail, which made me feel sophisticated and playful at the same time.

Ps. We're leaving Rome today and it's such a pity. I feel like there is still so much more to explore. The funny thing is that I actually felt the same exact way about Istanbul which we visited for 5 days but still there was so much more to see and discover. Anyway, a new adventure awaits as we're leaving for China next week with one of my all-time favorite brands. It will be my first time and I can't wait to share more with you guys.
I was wearing
Knitted Skirt
Black Turtle Neck
Vince Boots
Tod's Bag