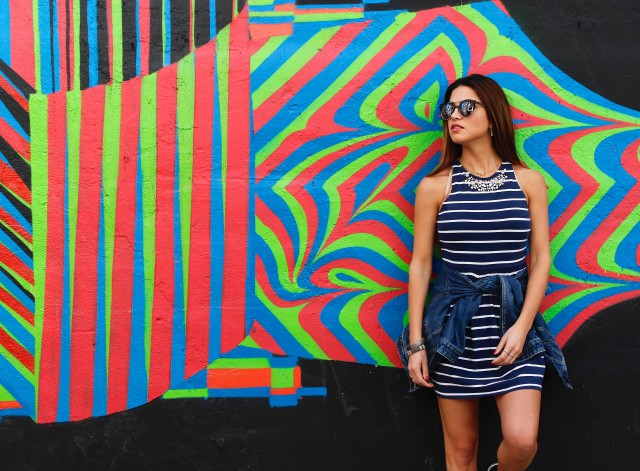 Our second day in Valencia offered us even higher temperatures with around 25 degrees Celsius. This girl from Amsterdam was extremely pleased with this as it actually felt a bit like summer in The Netherlands. Yes these are the kind of temperatures we have to deal with during our summer.

For this beautiful day I felt the need to wear something casual and comfortable yet chic and sophisticated at the same time. That's exactly the reason why the main item of the look was this pretty striped dress by Abercrombie & Fitch. There's just something about stripes and in my opinion we should all own a few striped clothing items in our wardrobe, like a striped shirt and this striped dress. Stripes just gives you that ultra casual vibe while still looking very chic at the same time. A What I especially liked about this dress is that it offers great detailing at the neck line where it almost looks as if you're wearing a gorgeous pearl necklace. Moreover I liked the skater dress fit that makes it appear even more casual.

I added my go to comfy sneakers and a denim jacket to make the look even more casual. And this outfit is exactly one of those effortlessly chic looks you guys know I'm such a fan of. What do you think?
I was wearing
Abercrombie & Fitch Dress
Abercrombie & Fitch Jacket
Converse Sneaker