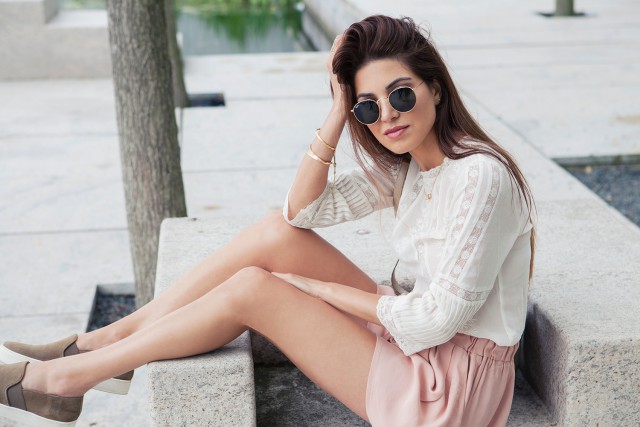 Hi sweeties! The final two days of our holiday in paradise has arrived already: time is flying when you're having fun. I really could have enjoy this wonderful island, these stunning beaches and relaxing places for two weeks more. On the other hand, several exciting projects are coming up I look forward to start with, one in particular: I'm happy to announce that I'll be doing a collaboration with my all-time favourite tv-show Project Runway, how cool is that?! D From the beginning on I didn't want to miss out on any episode, so every week one hour the television was totally mine, and there I sat... fully prepared with popcorn on the couch to watch all the inspiring designers, and of course the everybody's-friend Tim Gunn with his fashion-make it work-advices. Tomorrow the new season will premiere on television, and I just can't wait for September to travel to New York for this amazing project, stay tuned guys!

Today I wanted to spread my sunny happy Ibiza mood with you, and I thought this weekend-look is the perfect one to help me with that. It screams summer with those pastel colours, and it's all about a comfy-flowy vibe with those soft fabrics. Besides, don't you think the pretty detailing of the embroidered blouse with a button back gives that Ibiza feeling to it? I just can't get enough of crochet or subtle embroidery this summer. Even though light colours look clean and fresh, the details give the outfit a playful twist. Last but not least, my favourite sunglasses of the moment really finish my hippie chic look, right? Unfortunately, the blouse I bought two weeks ago, is already sold out now. So in the future, I promise you to do a shopping-post immediately when I'm purchasing some new items online, so that you can find them as well H

Have a fantastic week,
Love from Ibiza!
I was wearing:
Topshop Embroidered Blouse - Love this and this
Soft Pink Flowy Shorts - Similar
Vince Camel Slip-Ons
Ray Ban Round Frames
Céline Bag