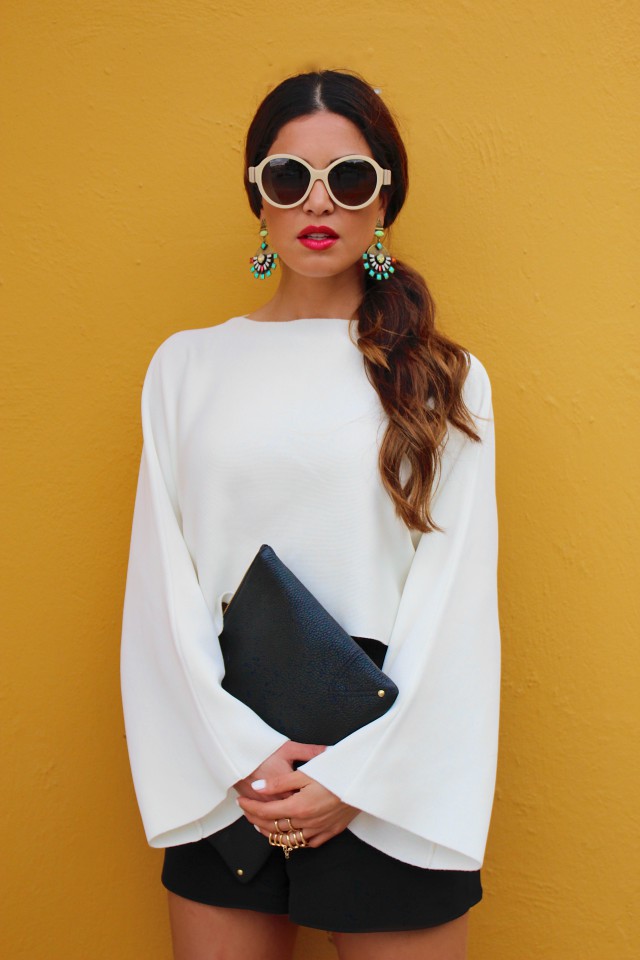 We've just arrived home and luckily the sun is shining here as well which makes coming home a little easier. I still have a few blog posts to share with you guys and I can't wait. We're finishing off our Curacao series with a fun little video of this beautiful island so make sure to stay tuned! :)
Here's the second look we shot in Willemstad. The mustard yellow wall we walked by made a perfect match to the black and white outfit. It really gives a simple black and white look a complete other dimension.
For the night I wanted to wear something elegant and timeless. What better way to do this than with silk black shorts  and a white crop top with wide sleeves. Especially the latter gives it that timeless feeling. While accessorizing this look with delicate jewellery pieces would have been great I wanted to go for more chunky statement pieces. To start with these sunglasses by Chanel. The nude and round frames really ties the black and white look together. And to add a little color I matched it to a pair of bright colored earrings. What do you think?
I was wearing
Zara Crop Top
Topshop Boutique Shorts
Valentino Rock Stud Heels
Chanel Sunglasses
Lionette Earrings
GiGi NewYork Clutch
Mango Touch Ring
Chanel Rouge Allure lipstick ''Mélodieuse'