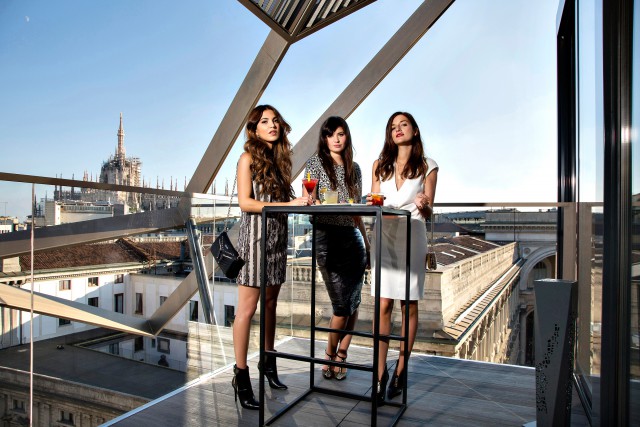 Personally, Milan Fashion Week is always one of the busiest weeks I experience during the year, but we love the energetic atmosphere from attending all of the shows and events—It's definitely an adrenaline rush! Plus, it doesn't hurt that Milan is my home away from home, so I always love getting back to the city.
Besides the Fashion Week, during our stay in Milan we got to collaborate with visionary Liu Jo brand, which I was quite excited about. What I absolutely adore about their collection is that it is incredibly versatile with so many options. From brunch, to the street, to a night on the town, there is something suitable for any occasion—how convenient is that?
Although we were very busy during the week, we did find some time to have a nice brunch and dressing for this sort of outing can be a little tricky because I like to be fashionably casual. Because of that I chose these sleek leather pants because they are comfortable but also have a sensible sophisticated appeal. I paired them with a beautiful delicate low-cut white top that keeps the look really crisp and easy-going. Definitely felt the brunch vibes in this A
Besides brunch, I also made time to have some cocktails with a few friends. One of the things I absolutely love about MFW is reuniting and hanging out with other bloggers that I've met over the years—It's always fun to catch up with them! I chose to wear this statement piece snake print cocktail dress for our evening out and wore it with more basic accessories so that this exquisite dress got all of the attention. It's fun and flirty, which is a perfect choice for time spent out with girlfriends.
Finally, for a more street style based look, I couldn't ignore this statement Liu Jo backpack. The details are stunningly elegant and I love how it added a little edge to my relaxed look. It's the perfect accessory for a day when I'm constantly on the go. It kind of invigorated me with this youthful back-to-school energy that I used to love so much! Definitely an ideal choice for the streets of Milan—I can't wait to go back A