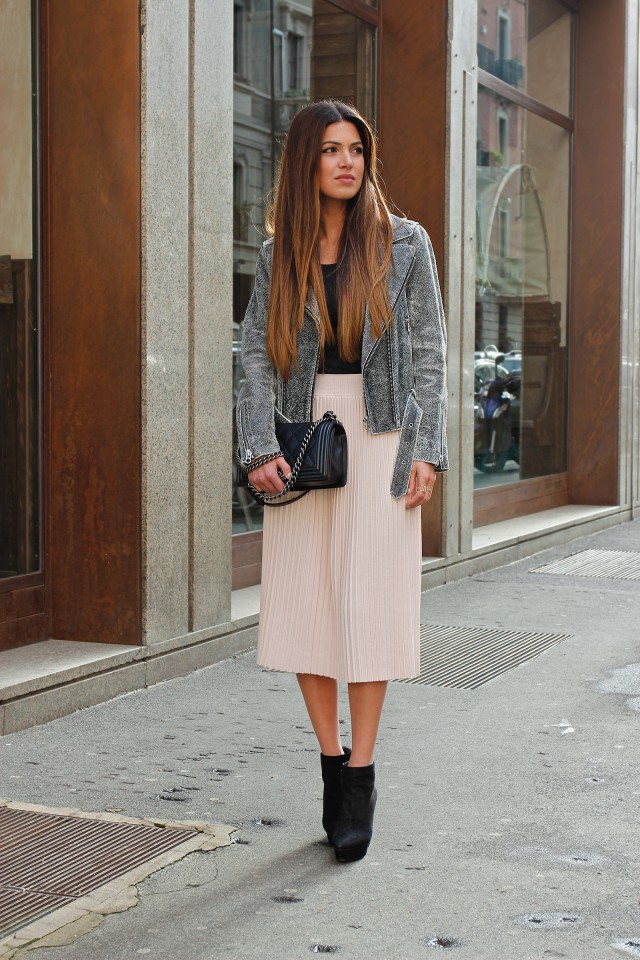 From Berlin to Curacao, to New York, Copenhagen and now we're in Milan. It's been a crazy month of travelling and I have to say I enjoy it a lot. Although my body isn't really agreeing on that so much mainly due to the jet legs and the flu but I decided to take it a little slow when we head back home.

This time we're in Milan for fashion week where I'm super happy to be reporting for Stylight as their fashion week insider. The first show we visited was of Just Cavalli, which was really all about fringed trousers, boots and lots of crazy and fun prints. A

My first Milan outfit had so much contrasts going on: baby pink against edgy gray, crackled leather against a pleated skirt and instead of the usual pump underneath this skirt I decided to go for these bold Prada booties. A little unexpected but I love it! I'm excited for tomorrow's shows and can't wait to share on my social pages. Much love!
I was wearing
Sandro Jacket
Zara Skirt
Prada Boots
Chanel Boy Bag