I'm so happy to be back on track and to get everything in order at home and at the office. We're having our Monday morning meetings again, making new to-do lists everyday, organising our brainstorm sessions, and making time to process all the inspiration we obtained during NYFW and MFW. Above all I'm so thrilled to share with you a new post every day, since we have proper working Wi-Fi again, which after our trip to Milan feels like a luxury. We've been dealing with some bad internet connection for one week straight, which for us bloggers is horrible. We were staying up late every night until 3 am in the hope that the internet connection would be better when people in the hotel slept. Sending one e-mail took us 5 minutes, so imagine sending out 30 of those. And yes that's the reason behind my dark circles. But I'm not complaining–it's a period in which you know you are not getting a lot of sleep, and it's simply worth it.

The second day in Milano was amazing. We had the opportunity to visit a lot of shows. The highlight of the day has definitely been the Emporio Armani show. After the show I realised how blue could possibly be Mister Emporio's favourite colour. Most of the pieces were blue (different shades) mixed with crisp optical white. I fell in love with the laid-back trousers that had a little stripe going on and were tapered at the ankle. Overall, the collection felt very refreshing, young, and sporty. You can see all the images in the background article. [When you are viewing this on your phone you can find the background articles after the comment section. On your desktop you can find it on your right.]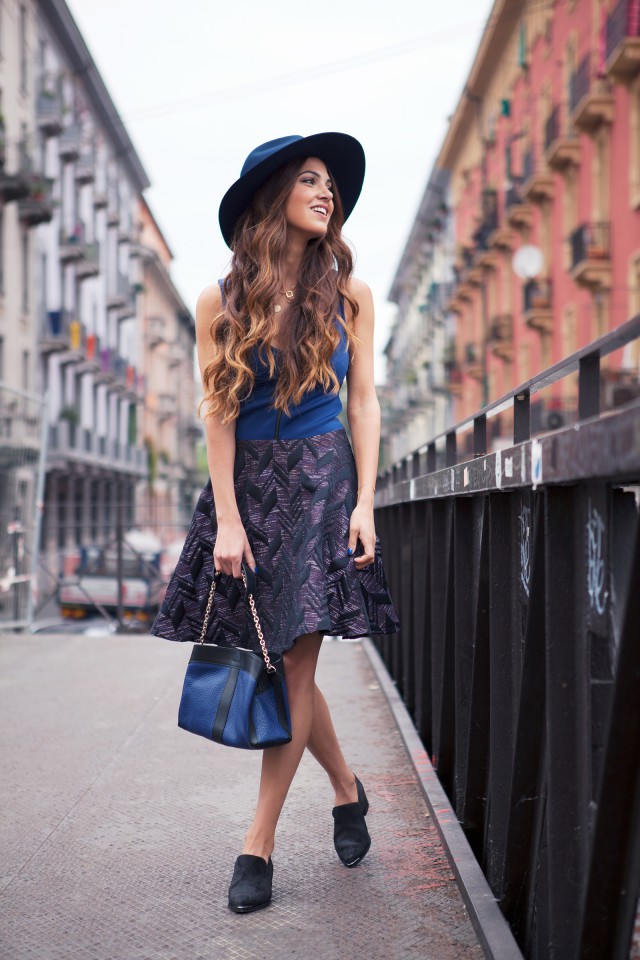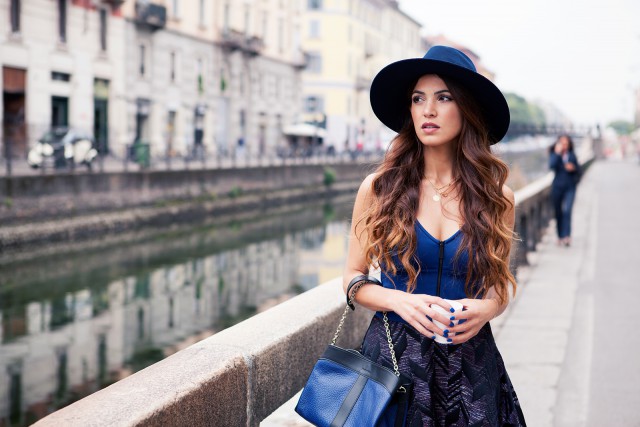 In the morning while dressing I knew that I was going to wear blue. They say that great minds think alike right? What do you think, lol! I opted for a dress which was both romantic, because of the flared skirt, and had a sporty touch to it because of the fabric and zip details of the top.

Lately, I tend to wear flats and sturdy shoes under skirts and dresses instead of heels. These Acne Studio pointed loafers give it such an unexpected twist. It's really these contrasts that I'm such a fan of. What do you think?