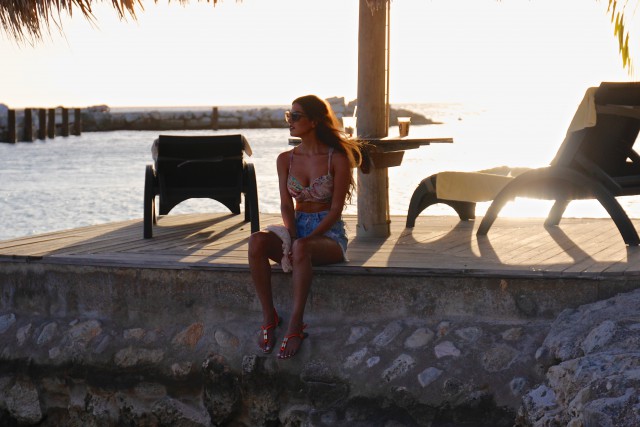 One of the best days spent in Curacao probably has to be day 5. We were invited by Animal Encounters which is just around the corner of the resort we're staying at. We went into a ginormous sea aquarium where we got the chance to swim with different kinds of fishes of which the Stingray was one of them. Surprisingly they seemed to be very sweet and they love to cuddle. After a few minutes when I really started to feel comfortable around them one of the stingrays decided to bite Maurits and I think he dealt with some pain (although he pretended not to). Of course after this little accident I was somewhat afraid for them so it was time to move to the next part of the session! Ps. The stingrays weren't able to sting us with their tails. So afterwards we moved to the sharks area where we fed two types of sharks: The Lemon and Nurse sharks. Fun fact: the nurse shark sucks in their prey, so when we fed them we actually had to be careful that they weren't going to suck in our hands. You can see all photos below including our 'do the robot' photo, which wasn't really planned (last photo, LOL). A

For the outfit of the day I was wearing an extremely cute yet flirty bikini with bright colours which instantly made me smile. I matched it to my favourite sandals of this vacation and of course my Levi's shorts which make a perfect match to the bikini. It gives such a vintage look and feel don't you think?

Now we're off to enjoy our last minutes at the beach! Then we will pack our bag and off we go back home for a few days. We'll be leaving for New York on Friday. Can't wait!
I was wearing
Swimwear World Bikini
Levi's Shorts
River Island Sandals and Striped Top
Céline Sunglasses