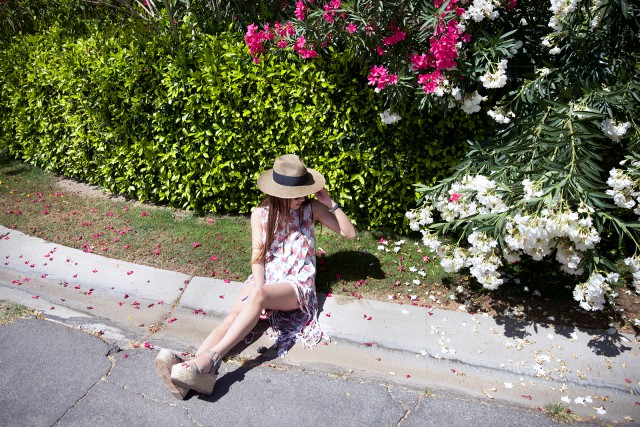 This blogpost is in collaboration with Revolve.
Palm Springs kind of felt like a dream location, somewhere that you don't actually believe exists until you see it up close and truly experience it. The nature and landscape is breathtaking. It is kind of cool to see streets lined with palm trees and cactuses leading up to large rolling mountains in the background. Definitely do not see that in Amsterdam! The atmosphere is so calm and pretty, like a real paradise, and it left me in the perfect state of happiness. Then we get to Coachella and even though there are so many people there, it never felt crowded because the festival is hosted on a very widespread of land. You feel like you're just hanging out, watching performances with a handful of your best friends, when in reality there are thousands of attendees. Imagine! There was such a variety of musicians, but for me the most memorable ones were Drake, who closed the festival (and had Madonna on stage!), and one of my favorites, Stromae. I'd never seen him perform live before and he was such a pleasure to watch. So much talent in one spot!
I think my outfit choices from Revolve Clothing reflected the relaxed energy that radiates throughout Palm Springs and the desert. From the thin braids in my hair to the floor length fringe of this floral shirt, it's an effortless, stylish comfort that is suitable for the beach, a concert, or a festival like in this case. Putting together this look for the festival was so much fun. I love the length of the fringe on this shirt because it's unlike any other fringe I've worn before. It made twirling around and dancing a lot of fun with the fabric swaying and it kind of gave off a more vintage feeling. What's great about attending these types of events is that it gives me a little more opportunity to experiment. Since I was keeping my makeup really natural, I put a little more emphasis on styling my hair by putting the random braids in it. That's not usually something I'd do, but it suited the festival vibes and I thought they were very playful. I know a lot of other people really took their fashion and beauty choices to the next level at this festival and as much as I liked listening to all of the music, I think seeing everyones unique outfit was just as entertaining. Until next year Coachella, it's been a blast!