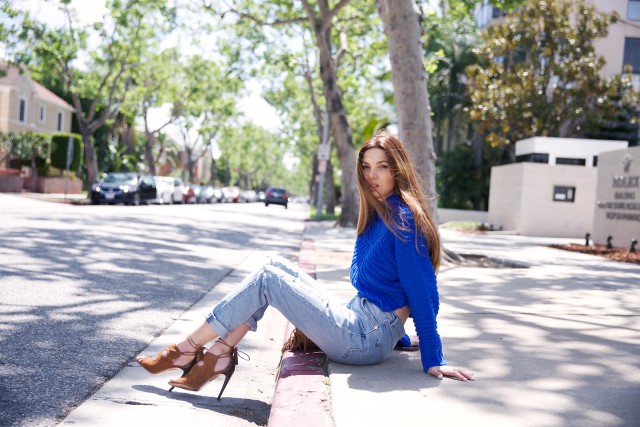 This blogpost is in collaboration with Sixty Hotel.
We just got back from L.A. yesterday and it felt so good to sleep in my own bed again, especially after such a hectic flight home. We missed our direct flight from L.A. to Amsterdam so we had to wait on standby for a flight, hoping someone wouldn't show up so we could have their seats, and then we ended having a layover in Paris. It didn't quite go as planned, but we made it! I do miss California though. I thoroughly enjoyed all of the things that L.A. had to offer. Based on the entire experience, the culture was the perfect combination of everything I love. From the weather to the people to the food and the fashion, I just can't get enough of the lifestyle. What I enjoyed the most about this new adventure was that it felt like a good mixture of work and vacation. We had a bunch of meetings on our first few days getting ready for Coachella, but we also got to play the role of tourist for a bit, which was a lot of fun. It's nice to have little moments that feel like a holiday even while getting a lot of stuff done—how perfect!
On our first day here we checked into the Sixty Hotel in Beverly Hills, which is conveniently located in the heart of the city, making my desire to explore a lot easier! After we settled into our room, I realized the weather was a little bit colder than I had anticipated, so it's a good thing I packed at least one sweater! But lucky for me the sun was still peeking out from behind the palm trees so my energy was high and I got excited to explore a new city. The weather and cool relaxed vibe of the city inspired my outfit for the day and what's great about it is that it's super comfortable, making it perfect for a day of wandering and seeking new treasures—the possibilities are endless! I really like the color and texture combination of this outfit. The bold royal blue is complemented nicely by the brown earth tones of the bag and shoes. I also think that the knit texture of the sweater paired with the suede shoes and fringe purse is great way of blending a fun playfulness with a chic refinement. To me, it's important to mix and match fabrics when my outfit is a little more minimal and simplistic because it keeps a look like this more intriguing. Even the high-waisted jeans add another dimension, making it a bit more fashion forward. Now, to continue exploring! Can't wait to share the rest of my adventures with you guys.