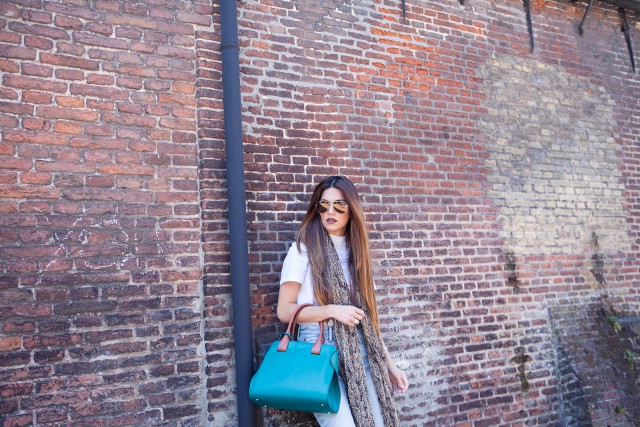 This blogpost is in collaboration with theluxer.com.
Hi everybody. We're back home until the end of this week and I couldn't wait to share this new post with all of you. In the past few months, do you remember how I've shared several looks with you in one post to show how to match a certain item in several ways and for different occasions? Since it was something you guys seem to enjoy a lot, I decided to bring it back. As most of you know, versatility is key when it comes to my wardrobe and I talk about it in almost every look I'm sharing. Therefore, these kind of posts are the perfect way to share this with you!

Those of you who follow me around on my social pages know that yesterday we've arrived back in Amsterdam and so we are back to the busy city life. So instead of toting around my beach bag like the last couple of days, I'm trading it in for something a little more work friendly.
I love that this limited edition Tod's Small Cape leather bag, that I found on theluxer.com, a new e-commerce site that I recently stumbled upon and now am obsessed with, is so elegant and refined in its minimalist design and size, making it perfect to carry around everything I need for the day. You know me, I can't be without my (many) essentials. What makes the bag really special for me is the bold rich color—the deep teal is so vibrant, ideal for spring and above all so different compared to the colours I normally sport! You know how much I like to experiment and play around with different colors and shapes! That's why I figured that this was the perfect item to showcase that although it's a bright color you can still wear it in several different ways. So again versatility is key!

Whether I'm going casual, like I did in the first look, or leaning towards a more sophisticated look (second look), it's nice to have a bag that I can rely on to suit any outfit I throw together. Personally, I think it goes really well with a simple, unembellished ensemble, where the bag serves more as a statement piece. It's nice to carry around on the weekend when I'm out and about with friends or even during the week when I'm going to and from meetings. I can't really ask for more!
What I also love about this statement bag is that it pairs well with casual and polished clothing, but it also matches well with a variety of footwear. These playful limited edition burgundy leather Tod's slippers are my go-to flats when I want to add a bit of flair to a laid-back outfit. I just love the playful metal polka dots, especially the way they reflect the light—it's like my toes twinkle (who doesn't want that)! I like that they add a nice special touch to my faded denims and high collared white shirt, making this the most comfortable outfit ever—I could walk around in this all day! Then for a more refined look, I thought that these limited edition metallic leather Tod's driving shoes fused perfectly with a pair of cuffed, form fitting dark leather pants and a long light blazer. By keeping the color palette neutral, the shine of the shoes gives the outfit a little more pizzazz and makes the elegance more lighthearted. The cheerful energy of spring has finally arrived and my accessories are definitely a reflection of that A