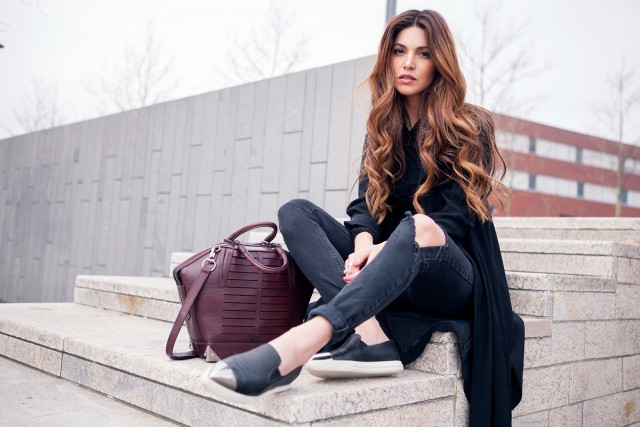 We just arrived home after doing a dream shoot in Sevilla and I couldn't be more excited about this entire experience. Even our road trip from Sevilla to our shoot location, where we had to drive through the mountains, was one of the most breathtaking experiences. And even though so much was jammed into such a small period of time (less than 24 hours), we were very productive and I'm so excited about the results. Unfortunately, leaving the heat of Seville means returning to darker skies and covering up, it's literally storming at home!
Sometimes when the sunshine refuses to peek out from behind the clouds, I don't really feel like putting too much effort into getting ready and this is when my black clothing is most appealing. Once in a while I think it's nice to go for a total black look because what's great about wearing all black is that it's not too difficult to throw together. It's the perfect choice if you're in a hurry in the morning (or a little lazy) and the shade is appropriate for all occasions. Black, though simple, packs a lot into one punch. It's elegant, chic, slimming, and great for all skin types. There is also a lot of room for creativity! I like to play with layers, lengths, and textures when wearing black from head to toe, to keep the look interesting and not so one-dimensional. From the long coat, to the ripped jeans and high collared shirt, black doesn't have to be boring!
To spice up the monochromatic look a bit, I added two classic pieces to make the look a little more special. I bought this Alexander Wang bag a couple of years ago and those who have followed me from the beginning know how much I loved it back then. I literally wore it with everything! But a timeless bag never goes out of style and I still love this bag. The color, size and shape are a match made in heaven for this all black ensemble— it's eye-catching without being completely distracting. Finally, these Miu Miu slip-on shoes add another level of charm and comfort, with the sleek appearance of the leather being enhanced by the metallic dipped toes. How cute are they? I got them last year and they're suitable for just about anything—just like an all black look. So how do you style your blacks?